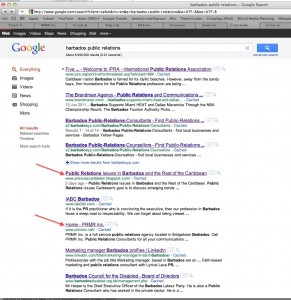 In April this year PRMR Inc. launched its new website to the world. In monitoring the web traffic we recognized that we were experiencing a decline in the number of visitors to the site. Also, when searching for public relations firms in Barbados our website was buried under page 4 or 5 in the Google search rankings.
We decided to try to figure out why?
We realized that we were guilty of not practicing what we preached. Our site was not optimized. We had also forgotten to open the new website to Google, so the results of any search on public relation firms in Barbados were based mainly on the ranking from our old website. Even firms based in the USA were appearing in the search before us. Unless a person had specifically typed PRMR Inc Barbados into the search, we were nowhere to be found.
What did we do?
We decided to focus on optimizing our website.
We redeveloped our PRMR Inc

Facebook

and

Twitt

er

pages and linked information from our pages to our website to increase visitor traffic to our page.
We redeveloped our "PR Issues" blog in blogger recognizing that search engines like Google rank blogs quite highly in their search results. We linked the articles from our website to our blog and vice versa.
We utilise tools like Wisestamp to incorporate links to our social networking sites, which would link any visitor back to our webpage.
We worked with our networking administrator to refine our meta tags for the Google bots to pick up on our website.
We purchased domain names related to PR in Barbados and directed them to go to our website.
We loaded Yoast SEO plugin in our website.
Slowly but surely our page has moved from ranking on page 4 to being ranked at number 8 on the 1st page of the google search. Our blog is also ranked at number 4.
We've followed a bit more tips and tricks, but we have tried to avoid the 'illegal' practices some website administrators employ to optimize their page. You can read about some of the bad practices for Search Engine Optimization in the link below.
http://seoyourblog.com/seo-tips/5-bad-seo-practices-harm-seo-effors-1814/