PRMR Inc. New Public Relations eBook By Pamala Proverbs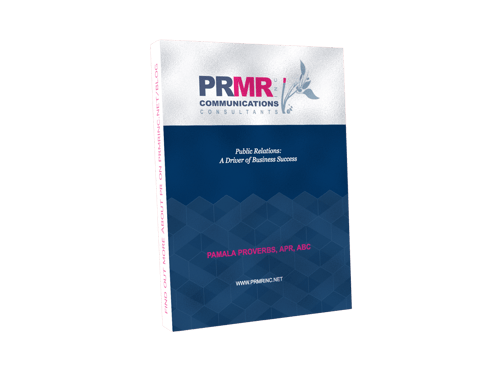 PRMR Inc. has published its first eBook. Written by the company's public relations guru, Pamala Proverbs, it is the first in a series of eBooks to be published by PRMR Inc.
According to Proverbs, "It is meant to be thought provoking, to push public relations to the forefront of business thinking as a bonafide strategy to propel business growth.
"The aim of the book is to advocate for the profession to demonstrate that it is a critical business strategy that sits shoulder to shoulder with other areas such as finance, marketing, sales and HR."
A number of new and traditional topics have been explored. The book features six chapters on the following topics:
Chapter 1: Public Relations Tactics Promote Business Growth
Chapter 2: The Role of PR in the Digital Age
Chapter 3: PR Tactics That Every Company Needs, but Undervalues
Chapter 4: Rethinking Your Internal & External Communications Strategy
Chapter 5: Social Media Customer Service, Why It Matters and How To Do It Right
Chapter 6: How PR consultants Suggest Top Managers & Owners Approach M&A's
This is a great aid for anyone interested in managing their company's reputation effectively. Please download your free copy now.