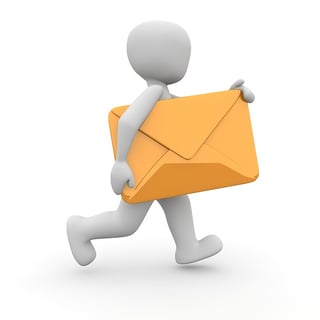 Email sounds almost old school these days, however, the prolific rate at which social media platforms are springing up has made customised email lists/databases an essential tool for business. When properly leveraged, an opt in Email subscriber list can work hand in hand with your social media strategy by encouraging potential customers on your social media channels to subscribe to your list and alert your customer base of your new product, service or content offerings. Your email list is the beating heart of your company's online marketing strategy. Here are three reasons why your email list is more important than social media following.

1) You own your email list!

Facebook, Twitter, LinkedIn or any other social media platform may change their algorithms or terms & conditions at anytime. Many marketers have already complained about Facebook's algorithm changes impacting the reach their Facebook posts are getting.

In order to make sure that a platform change does not totally derail your company's online marketing efforts, you should ensure that your primary strategy is working to drive customers to your email list from your social media channels. I like to think of it as your social media channels being the fuel that drive customer engagement and your email list being the engine of your overall online marketing.

2) Email is used more than Social Media platforms.

More people use email than social media today. In fact you need an email address to set up most social media accounts. Email has nearly two times as many user accounts as Facebook and Twitter combined? That's a whopping 2.9 billion. According to ExactTarget, 71% of consumers favor email as their first online "check" of the day. The combination of these two things, email being most used and a majority of people checking email first before their social media pages presents your business with an opportunity to tailor your email newsletter campaigns to reflect this reality. Bear in mind, however, that no one wants to have their email box filled with emails that they have little or no interest in which is why #3 is so important for achieving success in your email campaigns.

3) You are sure of who you are targeting when using Email lists

Ensuring that your company maintains an updated segmented email list allows you to target your customers strategically. This ensures your business reaches the right customer with the right message at the right time. Segmentation of your email list will allow your business to address one of the biggest bugbears many customers have which is email overload. You therefore know for sure that you are reaching persons who have an interest in what you are offering. This level of reach is not guaranteed on social media.

Finally remember that when customers receive too many uninteresting, unsolicited emails they may resort to either unsubscribing or putting the email address on their junk list. To combat this you will have to make sure that you segment your email list so that persons that are interested in a specific topic, service or product only receive emails related to their interest.

Services such as Hubspot or MailChimp allow your organisation to segment email lists into different demographics that allow you to speak differently to different segments. Let us know what services your organisation is using for your email lists and what are some of the criteria you use for your segmented email lists. Or if you don't know where to start we can manage your email list for you.