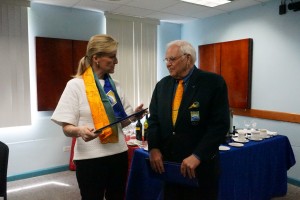 I am an old fashioned Barbadian. What does that mean? Well it means I am really proud and believe in respect and dignity. It also means that I am not star-struck by anyone, not even royalty. In my job at PRMR Inc. and otherwise, I have met stars, authors, international politicians, heads of multinational corporations etc. and do not have a picture to show for it.
One thing that I love to do as a communications/ public relations professional however, is to observe people in these positions in their unguarded moments, away from the glare of the spotlight. How they engage with other people is an indicator of their true character.
Most recently, I had the occasion to observe Sophie, Countess of Wessex up close. We were not introduced formally. My fault, I always take a back seat when I am working, but we stood as close as four feet apart for a good 20 minutes.
Here is what I observed. The Countess loves people. She is genuinely interested in your story; she is not just filling in for her husband, Prince Edward. Her genuine interest in others goes beyond royal responsibility. The night before she visited the Barbados Olympic Association Inc. (BOA) she met with some young people. I believe they were the parish ambassadors as I overheard her relaying the story that one of them told her about sports not being mandatory and that needing to change in order for sports in Barbados to be taken seriously. Now this was someone that did not just make idle conversation, but spoke to a young person with so much interest that she was able to internalise and repeat the conversation.
The Countess is quite sociable. After meeting with the staff at the BOA, she was invited to refreshments. I was shocked when she agreed to have a cup of coffee. With no special treatment and no airs about her she took her cup and continued to mingle. The Countess was so comfortable in the room among ordinary people that this allowed her previously very uptight security officer who introduced himself as Pat, to relax. Actually I got a smile from Pat. Being a James Bond addict (not the current Bond) I asked Pat if he was licensed to kill. He smiled and said he was and apologised for his early demeanour (he had not expected so many media representatives and he was concerned that their close proximity was posing a threat to the Countess).
The Countess is regular people. What does that mean? Well the BOA presented her with a scarf. She took it out of the bag and slung it over her shoulders so proudly that you would have thought it was Hermes. She also demonstrated her love for her husband when she took his tie and said he would definitely wear it, a true mark of a woman who has a firm grasp on her household.
As someone who loves fashion myself, I picked her outfit to pieces. Nothing was overstated. Her choice of slacks, blouse, shoes, handbag and jewellery were all smart, elegantly casual and fit for the occasion, obviously someone comfortable in her own skin.
However, what moved me to write this blog about the Countess was her parting act. As she was walking out of the reception area she looked in the servers' direction, looked one of the servers straight in the eye and said, thank you. This won me over completely. The Countess is gracious, and she sees the invisible people, the men and women who serve and are so important but are always overlooked; for me that was Royal.