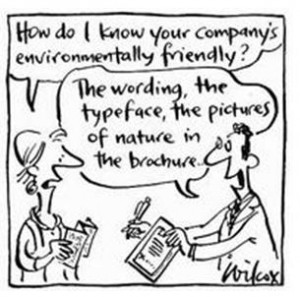 I was reading an interesting article on two issues close to my heart, the environment and communications/public relations.
Over the past decade, businesses around the world have been focusing on creating products and services, which have very little impact on the environment.
Several international companies such as S. C. Johnson, TESCO and Honda have implemented environmental management systems, which go beyond what the law requires to operate in an environmentally responsible way.
Many businesses recognise that being environmentally responsible can translate into sales. Consumers understand more than ever the importance of environmental conservation. Even more important is that with this increased knowledge; consumers are choosing to boycott businesses that have not made the decision to go 'green.'
This has caused several businesses to utilise greening as simply a PR tool to attract consumers and increase sales. However, several international certifications exist which can assist customers in deciphering between these 'green washed' businesses and those businesses which have invested in ensuring they reduce their impact on the environment.
Environmental certification programs are useful for identifying environmentally preferred goods and services. They are typically run by third party organizations that establish environmental standards for goods and services and then certify supplier offerings against them. These certifications include (among others) GreenSeal, EcoLogo, ISO standards of certification and Green Globe.

Green Globe is an environmental certification company based in Los Angeles. Its certification was developed to provide a way forward for tourism organisations who were interested in measuring their environmental impact and then developing and implementing strategies to reduce those impacts.
Green Globe is a very popular certification here in Bridgetown, Barbados and in the regional hotel and tourism sector. Almond Casuarina (formerly The Casaurina Hotel), Hotel Pommarine and Bougainvillea Beach Resort are three of the better-known Green Globe certified hotels on the island.
The Green Globe certification is so powerful that guests recognise the Green Globe label and as such choose these hotels based on these certifications.
Other types of local businesses have also been following the green movement in their attempts to be good corporate citizens. The Future Centre Trust and the Caribbean Youth Environment Network are two environmental organisation's based in Barbados which have created and implemented green standards for local businesses in an effort to assist consumers in determining the 'real from the fake'. Like any good certification programme, they set to review the companies environmental management system (if any exists) in the areas of energy efficiency, waste management etc.

Among those local businesses, which have received the "Green Business Certification", are Shell Western Supply and Trading, The Nation Newspaper, Caribbean E-waste Management and B's Recycling Ltd.
In this information age, where consumers are more knowledgeable than ever on the impacts that big business has on the environment; it is critical for businesses to invest in an excellent environmental management system. In this way, they will live up to their corporate social responsibility, enjoy positive publicity and very importantly increase their sales.