Port Workers Trained In Port Handling Best Practices Receive Certificates And Helmets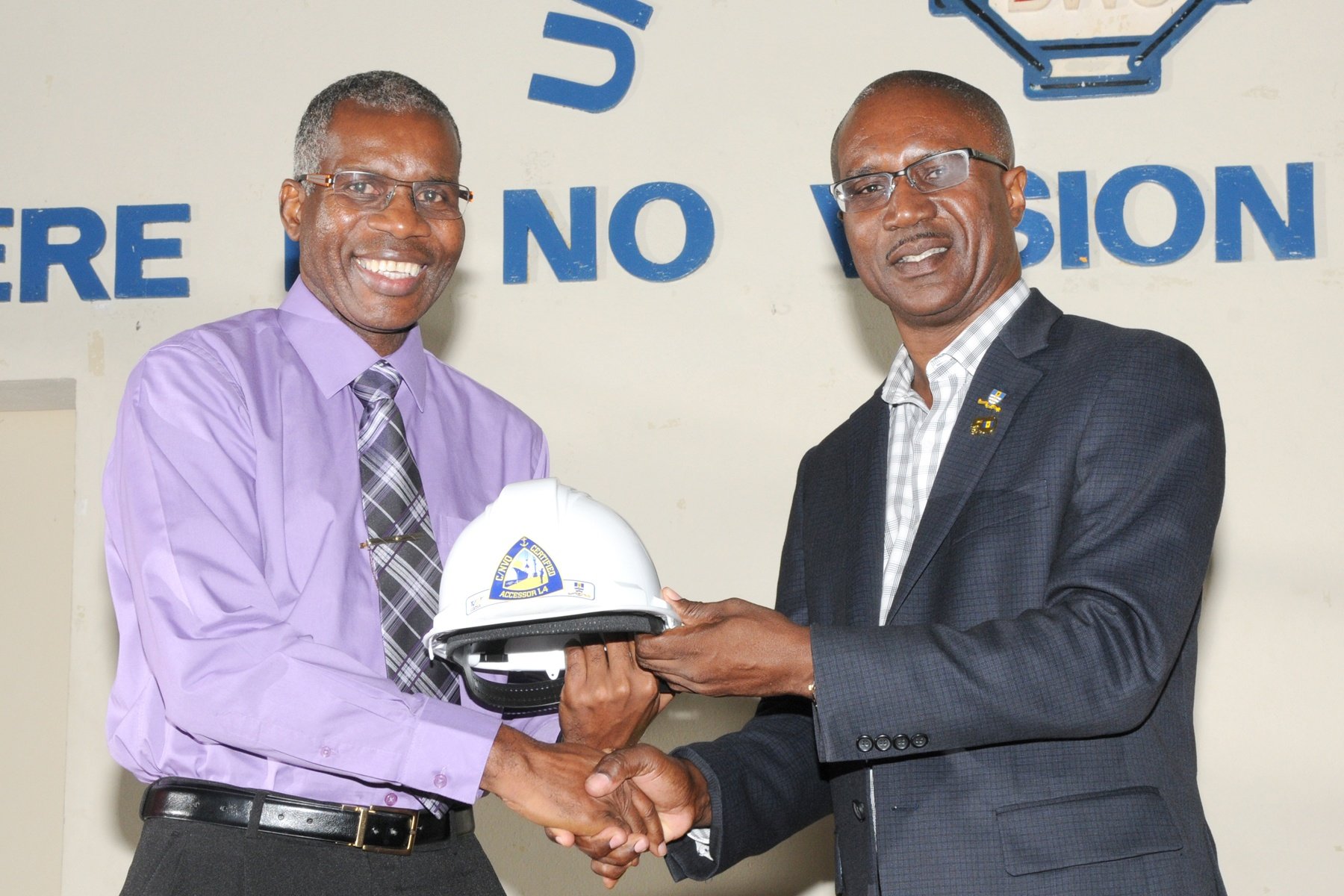 Caption: David Jean-Marie, CEO Barbados Port Inc presenting a helmet to one of the awardees
Bridgetown- - Employees of
Barbados Port Inc.
(BPI) were awarded certificates and decal helmets during a presentation ceremony held at Solidarity House on Tuesday.
The 54 employees (20 dockers, 20 equipment operators, nine supervisors and five senior officers), who participated in a five-week training programme aimed at improving the operational skills of the workforce, received certificates in Stevedoring Foundation Skills Level I, Operations Level II and Assessment Level IV.
CEO, David Jean-Marie in his address, said that both BPI and the Barbados Workers Union (BWU) recognised the need for the achievement of certification to establish best practice operations, in order to make the Port competitive in its class regionally and internationally. He added that since the implementation of the programme, conditions at the Port had improved with fewer accidents being recorded.
"The Port has already seen a reduction in the number of accidents and incidents resulting from a greater awareness of the safety protocols highlighted by this training, assessment, and certification programme," Jean-Marie said.
General Secretary of the BWU, Toni Moore, who also presented some of the certificates, said that she was delighted that the BPI recognised the importance of having port workers who not only possessed the necessary skills, but had accompanying certificates.
"We [BWU] are proud that the constituents of the BPI understand and value the responsibility that is theirs to pursue excellence," she said.
Employee Andrew Alleyne, who received a certificate in Stevedoring Level I, said the programme had raised the level of his ability to do his job not only competently but safely.
BPI has also been expanding its capacity along with the training of its employees. Recently Berth Five was expanded to simultaneously accommodate two mega cruise ship, MV Britannia and MS Mein Schiff 3, that homeport, as well as other large cargo vessels. BPI has also acquired 15 additional forklifts and five straddle carriers and a Panamax Gantry Crane that is currently being assembled as well other cargo handling equipment, all part of its capacity building exercise.