Barbados Port Inc. developing the 'total Port worker'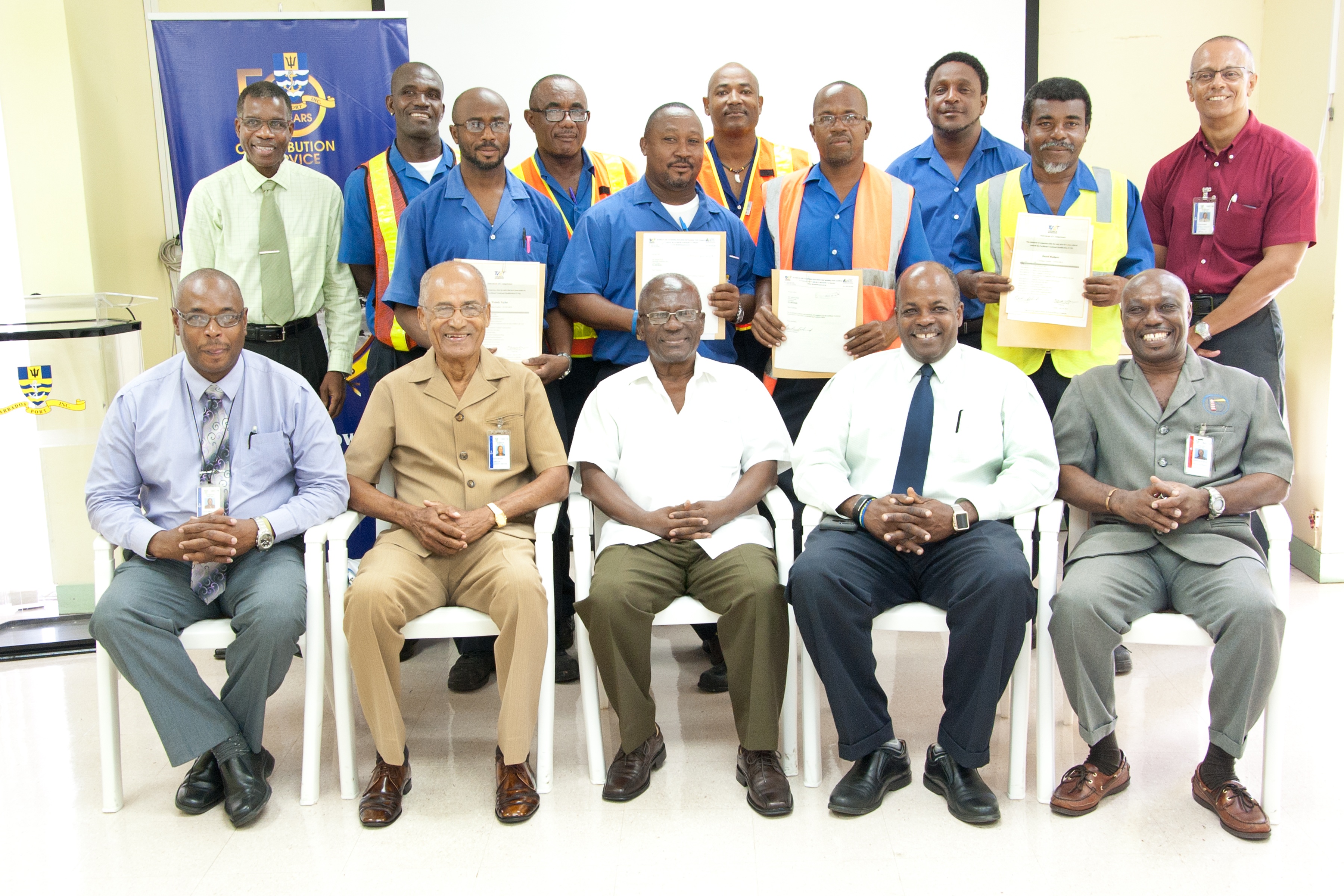 Bridgetown – Barbados Port Inc. (BPI) has awarded ten of its Dockers the Level 1 certifications in CVQ Stevedoring Operations. Completion of this Technical and Vocational Education and Training (TVET) programme means these Dockers now have a work-based qualification that can be extended beyond the shores of Barbados, and into the Caribbean.

Speaking on behalf of the CEO, BPI's Divisional Manager of Corporate Strategy and Development Kenneth Atherley said competency training initiatives like these were high on the Port's agenda. "Our vision is to develop the 'total Port worker, and, we have been working hard to deliver a complete workplace training package to all our staff to make this vision a reality" he said.

Both Curtis Smith, Divisional Manager of Human Resources and Industrial Relations, and Human Resources Manager Peter Carrington echoed these sentiments and also cited continuous development of the ideal 'Port worker' as a top priority for BPI. "We have really been making an effort to improve our service offer across the board," said Smith. "Our aim is to provide ongoing training for the entire BPI team to keep our operations at the highest standard".

After being presented with their certificates by Keith Wilson, BPI Board of Directors, Waindy Taylor spoke on behalf of the Dockers, thanking the Port and its partners for the opportunity to earn a Caribbean Vocational Qualification, and for empowering them in the workplace. "It was a very eye-opening experience," he said. "I will endeavour to put what I've learnt into practice, and look out for my fellow workers who may not have had the training yet."

The Stevedoring Operations training and certification programme includes the study of occupational health and safety, security procedures, receiving goods, unloading and loading cargo, carrying out inspections, as well as handling dangerous goods and/or hazardous substances. This TVET qualification is aimed to equip workers with the knowledge, technical skills, attitudes, and core skills essential to their working life as Dockers.

Both Sir Roy Trotman from the Barbados Workers' Union and TVET representative Paul Puckerin congratulated the Port on raising their efficiency standards and for giving BPI workers the chance to improve their workplace competencies to a regional standard. Sir Roy reflected on the role of the Union in promoting vocational training for Port workers (which has now been expanded), and further indicated that he saw no reason why the Port could not be "among the best, when compared with ports in Panama and the United States".