Barbados Port Inc. Held Commissioning Ceremony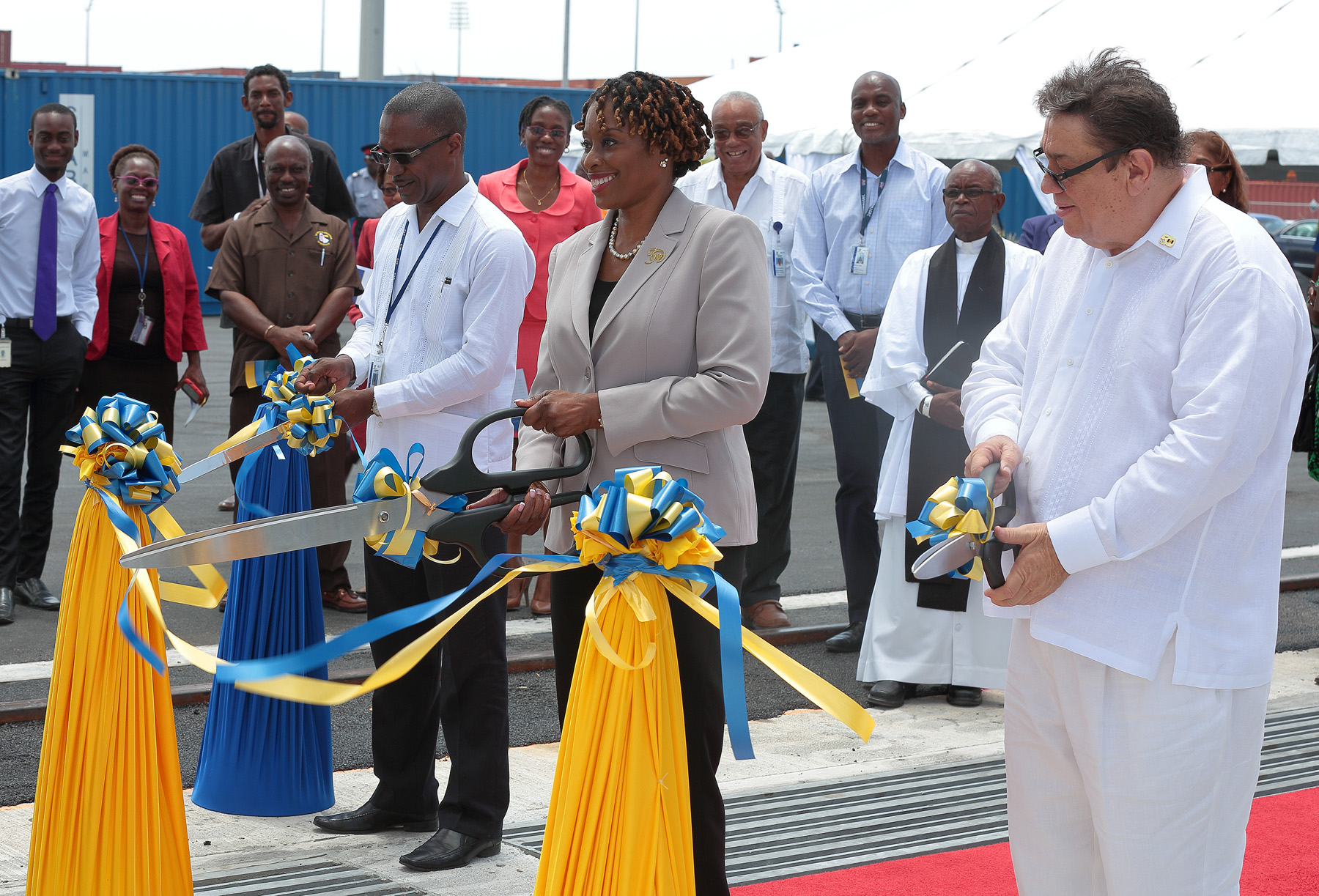 BRIDGETOWN—Barbados Port Inc. (BPI) held a commissioning ceremony for the recently extended Berth #5, the Shallow Draught Marina, the newly acquired Panamax Container Crane and other cargo-handling equipment, on April 25 at the Port.
The recently purchased Liebherr Panamax container crane was purchased to improve the
efficiency of cargo operations. It has the capacity to simultaneously remove two containers from
cargo ships and has an outreach of 37 metres and can reach 115 feet in the air. The crane can
handle a twin lift capacity of 60 tonnes, allowing it to handle Panamax-sized vessels, the mid-
sized ships which pass through the Panama Canal. The Panamax container crane replaced the
much smaller Gantry crane which has been in operation at the Port since 1985/86.

BPI chief executive officer, David Jean-Marie, said the expansion of Berth #5 and the
acquirement of the new equipment will assist in pushing the Deep Water Harbour to be the top of
its class regionally. He added that the berthing facility was dedicated to handling cargo, thus
separating the cargo-handling area from cruise passengers.

"We recognised the need for the extension of Berth #5 so that the mega cruise liners can dock
here. Due to this extension, we were able to accommodate the 330 metre-long MV Britannia and
the Mein Schiff 3 which is 293 metres long. We also acquired 15 additional forklifts and five
electric straddle carriers to establish best practice operations, in order to make the Port
competitive in its class regionally and internationally," he said.

He pointed out that several port workers have already received training in the use of the new
Panamax container crane and the Port has since recorded a significant improvement in the off-
loading of containers.
Parliamentary Secretary in the Ministry of Tourism Senator Irene Sandiford-Garner, delivered the feature address. The Senator and her official party were treated to a tour and demonstration of the crane, and the Shallow Draught Marina.

The 225-foot- long Berth #5 undertook a 75-metre extension last March to accommodate some of the world's largest cruise ships and cargo vessels. The Shallow Draught mainly accommodates smaller vessels and watercrafts.
Caption

:
Left to right: BPI
President David Jean Marie, Parliamentary Secretary in the Ministry of Tourism Senator Irene Sandiford-Garner and Chariman of BPI Board of Directors David Harding (MBE)