Barbados Port Inc. supporting restoration of historic East Point Lighthouse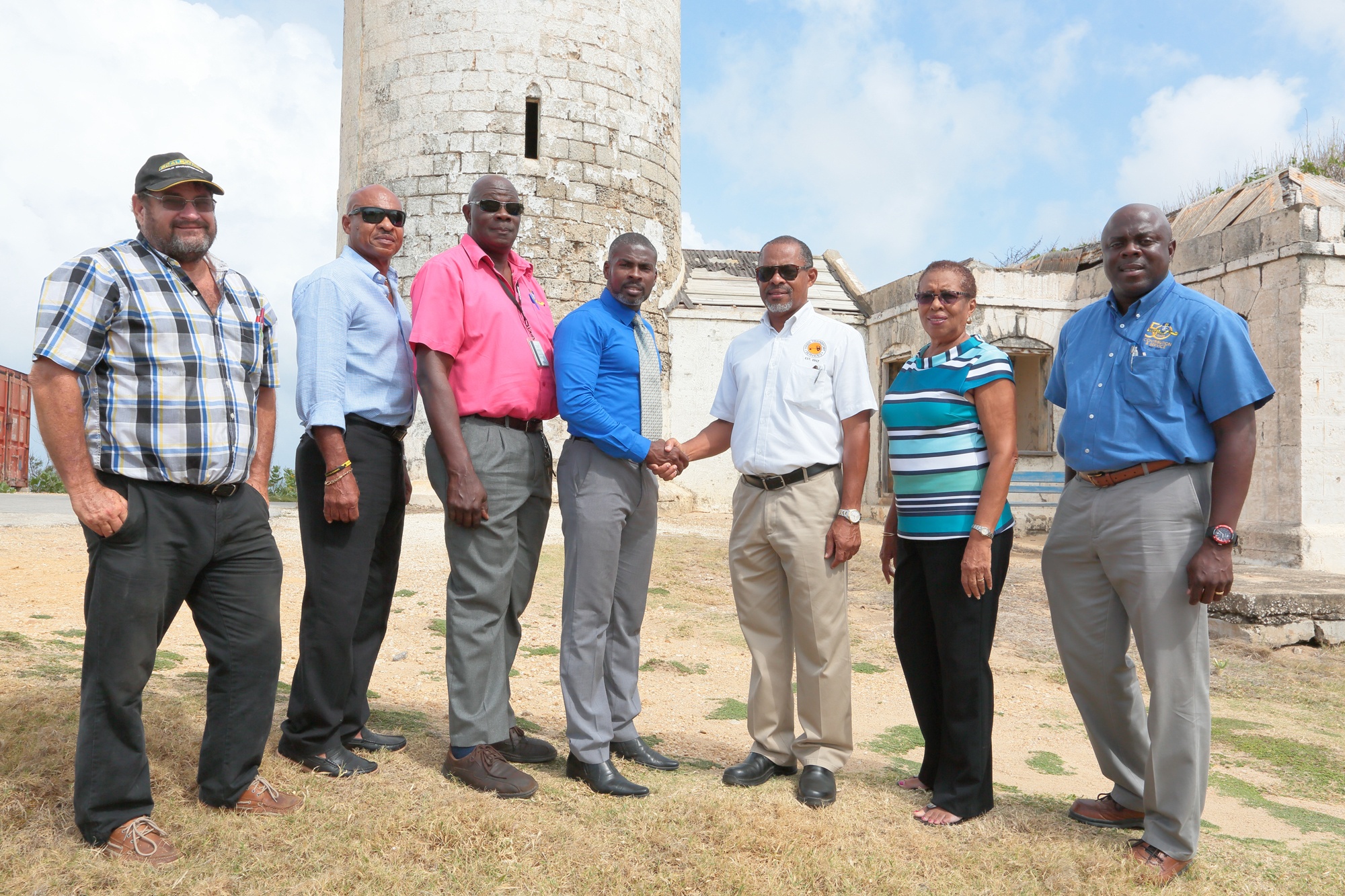 Barbados Port Inc. (BPI) has proudly announced its involvement in the restoration of the historic East Point Lighthouse in St. Philip. The restoration project, to be performed by Hinds Transport Services Ltd. and overseen by the BPI, commenced last month marked by an official ceremony and the initial removal of tree branches which have penetrated the building over time.
BPI representatives Captain Karl Branch, Divisional Manager Corporate Development and Strategy, Anderson Leacock, Manager Property Management and Maintenance, and Maurice Gaskin, Assistant Manager Property Management and Maintenance, as well as Dave Hinds, Finance Director at HindsTransport Services Ltd. and other Hinds Transport Services Ltd. staff were in attendance to document the condition of the structure at the start of this much-needed national conservation project.
Maurice Gaskin, BPI Assistant Manager Property Management and Maintenance, said the BPI's involvement in the project is to maintain the lighthouse after the completion of the restoration. "The Barbados Port Inc. welcomes this project and although our Property Management and Maintenance Department is not directly involved in the restoration works, we will be responsible for maintaining the lighthouse itself as well as the navigation light and any other electrical components once the project is finished," he said.
Gaskin said once restored, the lighthouse will serve a dual purpose. "Despite advances in shipping technology, we firmly believe traditional lighthouses maintain a level of functionality, of which the Port is responsible for. These structures continue to assist the navigational charting of incoming and passing ships, as well as serve as markers for the numerous boat races that occur throughout the year around the island." Not only that, Gaskin emphasised that given the historical significance of the East Point Lighthouse, preservation of the site is a high priority of the BPI. "We are seeking to maintain this as one of Barbados' premier tourist attractions and add to the cultural landscape of the island. Even now, this particular lighthouse continues to draw sightseeing tourists as well as travelling historians so you can imagine the response once it is fully restored to its former glory," he said.
East Point Lighthouse, also known as 'Ragged Point' Lighthouse, is one of Barbados' four lighthouses. It is the third-oldest, having been constructed in 1875. A notable landmark for both locals and visitors to the island, the coral stone lighthouse sits at 97 feet high (29.5m) on top of a cliff at the most easterly point in Barbados overlooking the Atlantic Ocean.
Caption 1: (centre, left to right) Captain Karl Branch, BPI Divisional Manager, Corporate Development and Strategy, hands over the keys to the East Point Lighthouse to Dave Hinds, Finance Director Hinds Transport Services Ltd. (TBC by BPI).