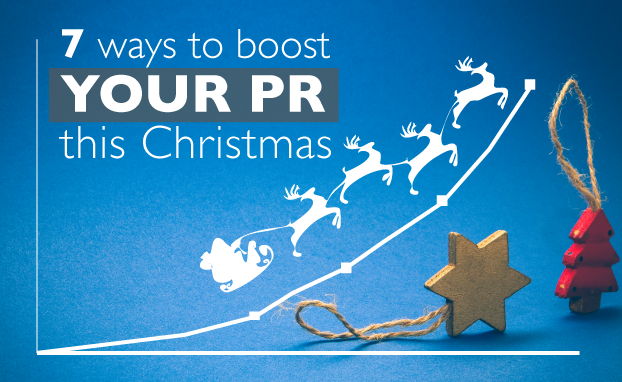 Although December is well underway, it's not too late to capitalise on the wealth of PR opportunities that the festive season brings. Ensure you're making the most of the holiday spirit by incorporating some Christmas cheer into your PR tactics to increase your business' exposure and profits. Here's how:
1. Make your content festive
Introduce festive content into your corporate communications to show your customers that you're human and promote a healthy engagement with them. It can be as simple as a jolly social media post, or as elaborate as a series of festively-themed blogs, but the point is to show that you too have recognised that yes, it's Christmas!

Get wildly creative; just ensure you link your Christmassy content to your business and the services you provide to avoid looking unprofessional.

2. Design like it's Christmas

We do not recommend revamping your branding on a whim, however Christmas is one of the only times we suggest you try out a few design variations to suit the season. You could modify your corporate logo with Christmas colours, a Santa hat, or a Christmas tree, and/or refresh your website layout with a 'Merry Christmas' banner to spread your Christmas message far and wide.

Be sure to change your festive design to its original format straight after the Christmas period. Remember, reputation is everything so you don't want to risk looking outdated by having Christmas logos all into January!

3. Give the gift that keeps on giving

Giving a free Christmas gift and/or personalised Christmas card (branded of course) are more great PR tactics to employ at Christmas. Send them to current clients, as well as potential clients, to take advantage of a time when everybody is feeling a little extra generous. Never underestimate the opportunities that may arise from showing your appreciation of, and interest in, clients.
Your thoughtful gift or card may just be the catalyst for a Christmas lunch meeting that turns into a major business deal for the New Year.

4. Reach out to the community

Donating to your community at Christmas is a wonderful way to help out those less fortunate during the holiday season, and it also does wonders for your corporate image. This can include donating a gift, money/sponsorship, your time, or even participating in a charity Fun Walk or similar event to show your connection to your community at Christmas time.

Don't forget to capture your community Christmas efforts and promote them so it doesn't go unnoticed in the public arena.
5. Decorate your office

We're here to tell you that as a business, you don't have to succumb to being 'beige' all the time. Christmas is the perfect time to justify a little extra office flair and delight your customers with your decorating skills. A little tinsel here and there, or even a Christmas tree, will show your clients you have taken the time to get into the spirit and spruce up your office for the festive season.
Just don't go overboard, or you could end up looking tacky!

6. Host a Christmas party

Another great way to enhance your client relations during the Christmas period is to host a Christmas party. Invite both current and potential clients to an 'all expenses paid' event to celebrate the end of a productive season.

The networking possibilities here are endless for generating new business, and it's an ideal time to show some appreciation to your loyal client base for their support throughout the year.

7. Don't forget your staff

Last, but certainly not least, it pays to remember that PR is not just about external relations, but just as importantly is about your internal employee relations too. Treat your hardworking staff at Christmas to show they haven't been lost in all the end of year madness.

Ideas for staff Christmas celebrations include an office Christmas party, end of year bonus, holiday time off, or a small gift as a token of your gratitude for their year of dedication to your business.
Boost your Christmas PR today by downloading our customisable holiday e-cards, courtesy of HubSpot!