Waterhall Polo Club ended their winning streak with both their teams going under on Saturday in the Williams Industries four team match series.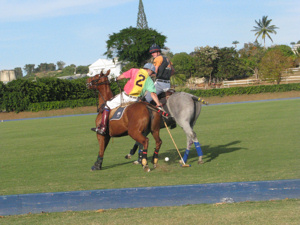 In the first game the Williams Industries Waterhall succumbed 3 to 5 1/2 to the Australian team Custodian. At a press briefing during the week patron of Custodians John Fitzgerald had said that the four teams were evenly matched and it would be the horses that decided the eventual winner. His team mates captain Craig Wilson and Trent Walden both complimented the quality of horses and said that they were very impressed with Sir Charles' stock given the fact that he had to provide so many mounts on the day and
all were of good quality.
Scoring for Custodian were Jamie La Hardy (2 goals), John Fitzgerald (2 goals) and Craig Wilson contributed one goal. The scorers for Waterhall were Danny Atwell (2 goals) and Tom Morley, 1 goal.
The second game did not live up to expectations. It was disorganized with glimpses of brilliances. Chris Hyde opened that scoring in the game which Ocho Rios won 9 1/2 to 6. Ocho Rios ended the first chukka ahead 3 ½ goals to 2. The second Chukka went to Apes Hill. The two professionals and the Dickson brothers seemed to settle down with themselves and their mounts in this chukka producing their best play for the game.
Neil Dickson, Jamie Dickson and Luke Tomlinson all scored in this chukka giving Apes Hill the lead, 4-3 1/2 at this point. The Ocho Rios team however woke up in the third chukka and went ahead off two Chris Hyde penalties 6 1/2 to 5. Johnny Good got into the action in the final quarter for Ocho Rios scoring his lone goal at the beginning of the final chukka which was the final nail for Apes Hill. Apes Hill managed just one more goal in the game from Jamie Dickson while Ocho Rios scored 3. Chris Hyde was the top
scorer for the match with 6 goals.
Apes Hill captain Luke Tomlinson said that his team fouled too much and after the second chukka his men got away from the line out and that was the game.