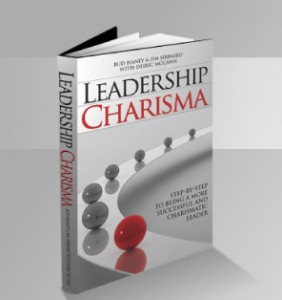 Some of the best leaders and most iconic figureheads in the world have been successful because of their ability to motivate and inspire others to action behind a common goal or vision.
No doubt, this ability to inspire others can be attributed to charisma; a quality until recently, many thought was possessed only by a select few.
In the best-selling book Leadership-Charisma, author Bud Haney proposes charisma is not a quality or attribute, rather it is a perception one person has of another whose personality he or she finds appealing.
Haney, who will be the featured speaker at the upcoming Leadership-Charisma seminar hosted by Profiles Caribbean Inc. and the Barbados Chamber of Commerce and Industry proposes, "It takes two people – one to observe what he or she describes as charisma, and another to behave in a manner that the observer perceives as being charismatic."
This means that charisma constitues a series of behaviours, which can be taught, learned and mastered by any individual. This is what makes the model proposed by Haney powerful, it examines the behaviours, mannerisms and attitudes that have made some of the most charismatic leaders great and which can be easily adopted by any business manager or leader.
Notwithstanding, like most things in life practice makes perfect! For those persons not naturally charismatic it is absolutely necessary to decide to stay committed to learning and developing this ability.
Becoming charismatic definitely requires a commitment to investing the time and energy to putting that knowledge to work CONSISTENTLY.
All managers and business owners are encouraged to attend this life-changing seminar on developing Leadership-Charisma, at the Hilton Barbados Resort on December 6, from 9:00am-11:00am and repeated from 1:30pm to 3:30pm.
Participants will receive a free Leadership Charisma index report along with the book, Leadership Charisma by Bud Haney and Jim Sirbasku. The report is designed to score on individual levels of charismatic behaviour and compare these scores to other leaders across the globe.
For more information on corporate and individual registration, interested persons should contact Profiles Caribbean Inc at (246) 431-0830 or the Barbados Chamber of Commerce and Industry at (246) 434-4750.
About Profiles Caribbean
Profiles Caribbean Inc. (PCI) is a regional company which was established in August 1994 to provide organizations with technologically advanced human resource tools and services to help them to hire, train, manage and develop people more effectively. PCI is the regional representative for the Texas-based Profiles International Inc., one of the leading providers and developers of occupational assessments in the world today. The company engages primarily in Psychometric Assessments, Search and Selection and Human Resource Consulting services.
About the BCCI
The Barbados Chamber of Commerce and Industry (founded 1825 - incorporated 1868) is a voluntary non-profit organisation for businesses established under an Act of Parliament (BCCI Act, 1983-10).
Read More