Verdun House Partners with Summit Bank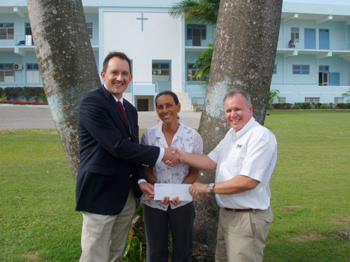 Verdun House,the drug rehabilitation facility at Pool St. John, recently received a welcomed donation of ten thousand dollars from Summit International Bank.
Summit Bank,
located in Collymore Rock, is a private offshore bank which has been operating
on the island for the last two years.
Summit's CEO,
John Howard in making the presentation to Verdun's Clinical Director, Jacqui
Lewis and Bernard Pooler, Director of Operations said that his company was
pleased to be associated with Verdun and the excellent work that they were
doing to help victims of drug abuse.
Lewis thanked
Howard and explained that Verdun was maintained through the kind courtesies of
donors such as his bank, since such donations were that facility's primary
source of revenue. "We are thankful
especially for this donation as it will help in the continuing education of our
clients, preparing them for life outside of Verdun House."
Summit Bank is
now one of Verdun House's newest partners.
Communications Officer of Verdun, Isabelle Goodman, who was also present
remarked that Summit Bank was an amazing blessing and Verdun welcomes more
corporate interests to get on board and help with the cause, because there is
still a lot of work left to be done.