Star Legend Makes An Inaugural Visit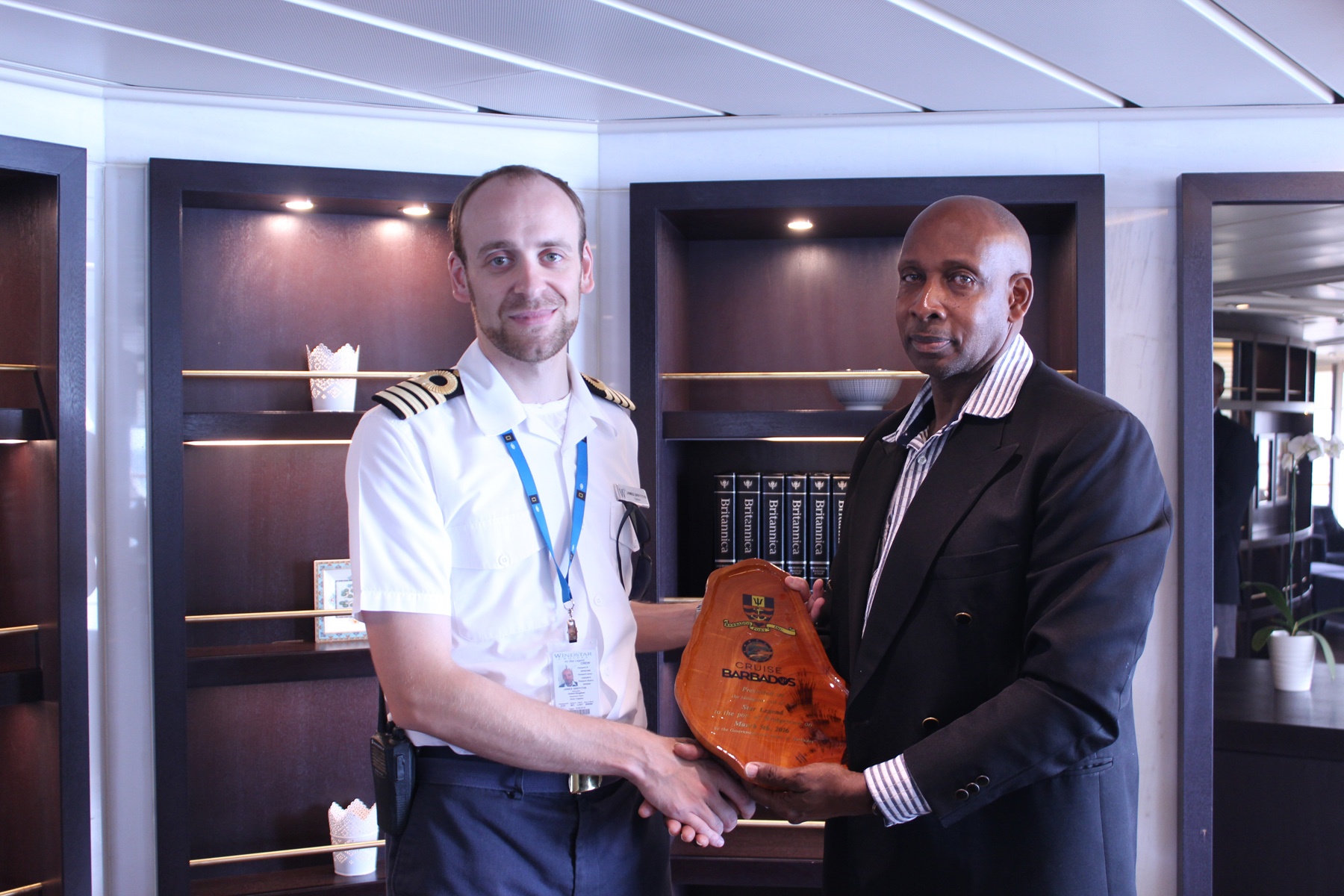 Caption: Harbour Master Richard Alleyne presenting the traditional Barbados mahogany plaque to Captain James Griffiths.
Four months after the cruise ship Star Pride graced our shores for the first time, her identical sister, Star Legend made her entrance at the Bridgetown Port under the Windstar brand carrying 212 passengers and 152 crew
on Saturday
.
The small luxury cruise ship, known for its sails and for traversing small intimate ports that the larger ships cannot manoeuver, made Barbados an exception. According to her British captain James Griffiths, "Barbados is ideally positioned to allow
us to operate those itineraries. It is a fantastic turn around port with international world class facilities that allows us to operate in the remote part of the Caribbean."
Barbados Port Inc.'s (BPI) Harbour Master Richard Alleyne welcomed the captain and presented the official plaque on behalf of the island, which was witnessed by officials from Bridgetown Cruise Terminals Inc., Platinum Port Agency and BPI. "We at BPI are always excited to welcome new ships. The Windstar brand is very familiar to us in Barbados and we look forward to welcoming more of your fleet," Alleyne said.
Unlike the larger ships, Star Legend has an open bridge policy along with the other luxury cruise ship features. This allows passengers to get to know the captain and crew personally, which might account for its high repeat passenger rate of over fifty percent. Star Legend has been in the Caribbean for three months home-porting from San Juan, but leaves for Europe this month. It is the 15th inaugural ship to call on the Bridgetown Port this season.