Port preparing for the next 50 years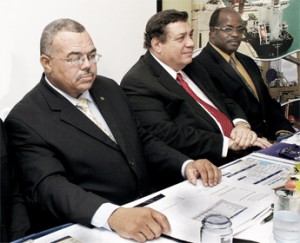 As the Bridgetown Port celebrates fifty years of service later this week, the Board of Management is preparing for the success of the next fifty years.
This is according to Chairman of the Barbados Port Inc., David Harding. He was speaking on Friday at the official launch of the organisation's 50th Anniversary Celebrations, scheduled to go into 2012.
Praising the high standards of the Port, Harding said that the management will continue to maintain these standards as part of the Caribbean Maritime Operations team.
"What we have here 50 years on, is a port that functions very well, certainly within the context of the Caribbean Maritime Operations, and we are proud to be part of that team. We have won several awards over the years and we are not resting on our laurels; we intend to continue," the Chairman stated.
Harding went on to say that the Port will continue to improve in the future and that the management will ever be looking for ways to increase revenue, while maintaining cruise and cargo operations.
"My vision is [that] we are celebrating fifty years, but let's look to the next fifty years, and it is in that vein, as we celebrate our fiftieth anniversary, that we look towards the future and what the future holds for maritime transport, for cruise business and for a number of things that the port can find avenues of revenue," Harding added.
Taken from the Barbados Advocate, May 3, 2011.