Port Inc. Launches Its 50th Anniversary Primary And Secondary Schools Essay Competition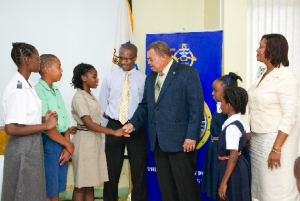 The Barbados Port Inc, is committed to the educational development of young people in Barbados.
So says Acting Chief Executive Officer of the Barbados Port Inc., David Jean-Marie, as he addressed the delegates of public and private primary and secondary schools and other officials who attended the launch of the Port's 50th Anniversary Primary and Secondary Schools Essay Competition.
Jean-Marie urged the students to view the essay competition as an opportunity to provide their perspectives on the operations of the Port, over the past 50 years.
He explained that the Essay Competition was another initiative of the Port's Educational Outreach Programme, " which was started in 1966, as an educational experience, focused on the educational enrichment of the nation's children."
The outreach includes presentations to schools, tours of the Bridgetown Port, career showcases, the Port Experience Summer Camp as well as the creation and disbursement of a variety of youth-focused educational materials on the maritime industry.
The Minister of International Business and International Transport, the Hon. E. George Hutson, in his adddress, expressed the need to nurture and develop the potential of Barbadian youth.
He said that "young people are the future of our society, and the world at large. We need to nurture them in a way, which develops their horizons and at the same time benefits the society in which they will be the, 'masters of their own fate.'
The topic How Has the Barbados Port Contributed to the Development of Barbados is designed to develop the student's desire to delve into the history of Barbados. Such a topic encompasses a huge area and encourages participating students to hone their research skills, to develop an interest and awareness of the institutions and stages in our history which made Barbados into the country it is today."
Educational Officer, Cheryl Sargeant-Speed conveyed the Ministry of Education's endorsement of the Essay competition stating that it was "timely" as it gave tstudents the opportunity to do something positive during the summer holiday period where they are usually occupied with a number of distractions.
She also commented on the great prizes offered by the Port which would provide incentives for both students and schools.
The competition is open to students between the ages of 9 and 16 from local primary and secondary schools.
Winners will receive a range of exciting prizes including, an iPad, one laptop computer and a savings account at the City of Bridgetown Cooperative Credit Union in the amount of $600.00. The school of the winning participant in each category will also receive a trophy and a cheque for $2,000.
Essays must be submitted to the Barbados Port Inc., through the school, by 4pm on September 30th, 2011.