The Barbados Port Inc. Celebrates Its 50th Anniversary With Staff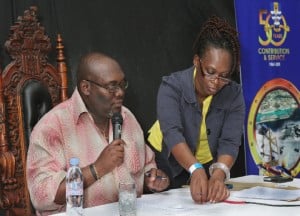 The Party stand came alive on Friday, May 6, as management and staff of the Barbados Port Inc. commemorated their 50th Anniversary with a karaoke session and quiz, entitled 'Propa Port Quiz.'
Chief organiser of the night's festivities, Ms. Michele Griffith, Assistant Manager, Management Information Systems said, " the evening was created as a fun activity for the staff to build interest and knowledge about the Port's operations. More importantly, it was part of management's continued efforts to build a greater sense of camaraderie among the staff."
The event began with a brief speech on the historical background of the Port, by the Acting CEO, Mr. David Jean Marie. The competing teams, were then invited to take their designated places on the stage, along with the Quiz Master, Mr. Carl 'Alff' Padmore, who entertained the crowd throughout the evening with his quick wit and high energy.
The quiz covered a number of themes, namely Know de Port; Wuk at de Port or get Deport; Portism, not Yardism or Officism; One Port family; How Well You Know Yur family; Meet Me At The Breakwater; Stump de Port; Blue, Yellow and Black Put it Up.
Four teams competed in the quiz: Terminal Operations, Security Services and a combined team from the Human Resources and Accounts departments.
Ultimately, it was the team from Terminal Operations 'Team 2', which emerged victorious, winning the grand prize of a trip for each team member to New York. Members of the winning team were Beresford Moseley, Glendine Lewis, David Beckles, Andrew Alleyne, Frank Edgehill and Rosalind Farley.
The jointAccounts and Human Resources departments' team was second. Team members each won two nights stay for two at the Bougainvillea Beach Resort, and $200 spending money. Team members were Tony Bishop, Olivia Carmichael, Movel Smith, Carlyn Waithe, Andrea Mayers and Nicole Gooding.
The Terminal Operations 'Team 1' department placed third. A cash account at the Barbados National Bank, with a value of $600.00, was opened under each member's name. The members were Andrew Grant, Darren Burke, Dana Peters, Kelly Ann Springer, Clecia Oxley and Yvette Griffith.
All of the winning teams expressed great excitement about their prizes. Participants said they enjoyed the atmosphere and that 'a great time was had by all.' This was especially true of the Karaoke session, where staff serenaded each other with old favourites like The Drifters 'Under the Boardwalk' and 'Stand by Me.'
Ms. Griffith said that the entire evening was made possible through kind contributions by the Barbados Port Inc, private sector companies such as Champers, the Beach House, Island Safari Tours, S. Abeds and Company, Tall Ships, Golden Sands Hotel and Atlantis Submarine; as well as Mr. Arnold Jessamy.
The Port's 50th Anniversary celebration will continue for the rest of the year featuring a number of activities for staff and other stakeholders.