Barbados Port Inc. partners with AIDS Foundation to increase AIDS awareness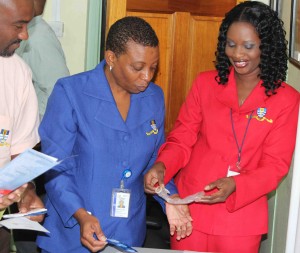 In observation of 'Love Safely Week' which runs from February 12 to 19, the Barbados Port Inc. has partnered with the AIDS Foundation of Barbados Inc. to sensitise and educate staff and other stakeholders about the importance of safe sex and to effectively address challenges posed by the HIV/AIDS pandemic.
Yesterday marked the launch of the AIDS Foundation of Barbados' private sector condom campaign to promote safe and safer sex, which encourages workers in the private sector to condomise and use condoms correctly and consistently. The launch took place in the training room of the Barbados Port Inc.'s main administration building.
"This message of normalising condom use is ever critical now when love is in the air, as Valentine's Day fast approaches" stated Akiba Reid, Executive Director of the Aids Foundation of Barbados.
"One approach to better ensure prevention and halting and reversing infection, is through protection and education on the use of both female and male condoms", she noted.
As such, the Foundation will be present today and tomorrow at the Port, conducting HIV and AIDS basic sessions with condom demonstrations and distribution, as well as conducting a baseline survey at the end of each session, to ensure thereis local data at hand to inform HIV/AIDS intervention strategies and programmes.
David Jean-Marie, Chief Executive Officer of Barbados Port Inc. stressed that the launch of the partnership with the AIDS Foundation dovetails well with the Port's HIV/AIDS policy which seeks to inform and educate workers and assist them in managing their own health in relation to HIV/AIDS. It also seeks to develop and implement a sustainable HIV/AIDS programme, to develop basic practice in all areas of the fight against the pandemic and to enhance respect for worker's rights, he said.
"This strategic alliance is quite timely for our company, as we have recently completed our HIV/AIDS policy, which will signal our intention to fight against this devastating epidemic, and resolve to ensure they the working environment at the Port remains healthy and safe for all employees" Jean-Marie commented.
"Our aim is to effectively address the challenges posed by the HIV/AIDS epidemic to employees, their families and our business operation, by raising awareness among workers, assisting in the prevention of the spread of the virus, influencing behaviour and lifestyle and focusing on attitude change at the workplace" he further noted.
"In this regard, the company is committed to its obligation to assist, within reasonable limits, any of its employees who may be afflicted by the disease. We recognise our corporate social responsibility and obligation to support the national HIV/AIDS policies, initiatives and programmes" he remarked.
Jean-Marie further pointed out that the HIV'AIDS workplace policy is being led by the Port's Medical Facility which is staffed by two industrial nurses. The Facility was established in 2005 he said, as the first response for Port employees and to be a medical, educational and informational resource centre to aid employees.
Taken from the Barbados Advocate, February 14, 2012.