Lift Male Standards - MHM In the Community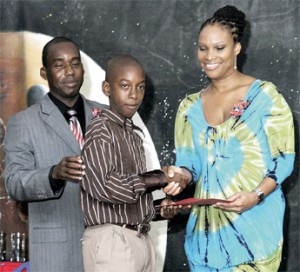 Just under 50 secondary school boys taking part in the Life Skills Programme of Supreme Counseling for Personal Development have been urged to help rebuild the standards of young males across the island.
Chief Executive Officer and Chairman of the organisation, Shawn Clarke, made the plea while addressing the programme's graduation ceremony at St. James Secondary School last Saturday evening.
"We have seen over the past years a deterioration of the standards and the moral fibre of our males. We have a situation where more than 85 per cent of those enrolled in our programme are
males, however, we find it difficult to attract not even five per cent of males registering to be mentors. I therefore challenge you, the young males of this Life Skills Programme, to begin some repair work at putting the Barbadian male back on track to be seen in a more positive role. Let your light so shine that all will say, 'There goes a supreme being!'" he said.
According to him, positive attitudes in school work and deportment and towards peers, siblings, parents and self were therefore critical.
Admitting nevertheless that there were many challenges facing the youth, Clarke outlined that mentors must be in place to help guide this vulnerable group away from negative influences.
As such, he pledged the organisation's full commitment to helping student members throughout their entire secondary school life.
"When we started the 2010/2011 programme it was envisaged to be a one-year programme. However, after great consideration we felt the need to extend the project to include a mentoring aspect of which you are now a part. But we also felt you needed more, and for that the Supreme Life Skills Programme is now one that will take you from the start to finish of your secondary school life. We will develop programmes to work with you every step of the way," he emphasised to the applause of those gathered.
Taken from the Barbados Advocate, July 19, 2011.