Maria Holder Memorial Trust Donates Life-Saving Equipment To The Pediatric Unit Of The Queen Elizabeth Hospital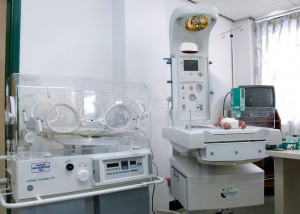 Sick and critically ill children in the Neonatal Intensive Care Unit (NICU) at the Queen Elizabeth Hospital (QEH) are benefitting from over $60,000 worth of equipment donated by the Maria Holder Memorial Trust (MHM).The equipment, which includes stethoscopes, incubators, recliners and IV poles among other things, was sourced from BioMedical International Corp and Collins Ltd.

Professor Anne St. John, Director of the NICU, thanked the MHM for their generosity and more importantly responding to the department's needs. She stated "these pieces of equipment will go a long way in helping to save lives and aid staff in effecting professional, state-of the art medical care."
CEO of the QEH, Dr. Dexter James, also expressed his gratitude to the MHM for their generous donation, calling it "Christmas in May" and a fine example of goodwill from the private sector.
Chairman of the MHM, Christopher Holder, who formed the charity in his mother's name, said they were happy to donate equipment such as incubators that could significantly increase the chances of survival for premature babies and sick infants. He expressed joy that the principal focus of the organisation would be fulfilled through this donation.
About the MHM
The MHM is a registered charity, started in Barbados in 2007. Its principal focus is on creating longevity. The trust is affectionately known as the Maria Holder Memorial or MHM, and was founded by Christopher Holder and Chester Brewster in memory of Maria Holder.
The Charity's main objectives are: To promote health care institutions where appropriate, for the elderly, needy and other areas that may be best suited; To assist with the educational needs of underprivileged children or those who are differently able or otherwise challenged; Create opportunities for the youth of Barbados through assistance with skills training programmes or tools to enable these to be enhanced or, as may be necessary after consultation with all relevant Government or N.G.O. agencies that exist; To render assistance where possible to poverty programmes already established or in planning by the Government or any N.G.O.; To advance the art form and cultural expression of youth in the communities/parishes as may be determined.
Some of the organisations, which have benefitted from the MHM Trust, are: The Barbados Association for the Blind and Deaf, The Sunshine Early Stimulation Centre, The Hope Sanctuary (The Hope), The Substance Abuse Foundation Inc. (SAF), The Liberta Sports Club (Antigua), The Barbados Cancer Society, The Children's Development Centre, the Barbados Child Care Board.