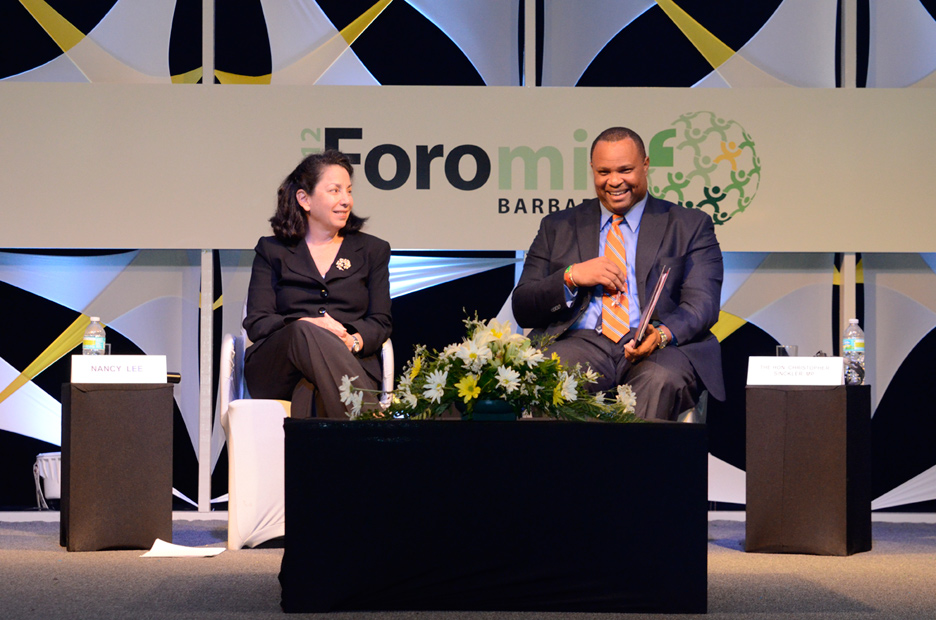 Wednesday October 3, 2012
Foromic closes with call to develop innovative and flexible financial products for SMEs
St. Michael, Barbados – Latin America and the Caribbean need to develop increasingly flexible and innovative financial products and services for the region's burgeoning small and medium enterprise sector, according to discussions held during the 15th Inter-American Forum on Microenterprise (Foromic 2012).
The three-day event, held for the first time in the English-speaking Caribbean and with the theme "Unlocking Entrepreneurship: Towards Innovative Solutions," brought more than 1,000 participants to the Lloyd Erskine Sandiford Centre in Bridgetown. Foromic 2012 was jointly organized by the MIF and the Government of Barbados.
"At the MIF, we think of a continuum of business with high growth potential entrepreneurs of all kinds and sizes along it,'' said Nancy Lee, the general manager of the Multilateral Investment Fund (MIF), during the closing ceremony, which also had the presence of Christopher Sinckler, Minister of Finance of Barbados. "We support pioneering institutions that are creating flexible products that grow with their clients."
Lee said that the theme of this year's Foromic, "lies at the core of countries' growth and poverty reduction strategies" all over Latin America and the Caribbean.
Discussions focused on innovative financing models for small and medium-sized businesses, as well as developing financial services for the poor beyond microfinance, such as savings and insurance.
This year's Foromic had a special day dedicated to Barbados and the Caribbean, at which panels discussed development opportunities for small businesses, microfinance, entrepreneurship among youth and women, and emerging business from renewable energies.
Lee cited several Caribbean business owners who participated in the conference to share their experiences, including Trinidadian fashion designer Anya Ayoung-Chee, Haitian handicraft exporter Magalie Dresse, Barbadian gym owner William Nathaniel Beckles, and young participants in the entrepreneurship training and mentoring programs of the Barbados Youth Business Trust.
Microfinance industry
The latest trends and developments in microfinance were also an important topic discussed at the conference. According to the 2012 Global Microscope report, launched during the event, Latin America continued to improve its environment for microfinance, with Peru and Bolivia showing the biggest gains and leading the global ranking of 55 countries.
The report also highlights that policymakers and microfinance institutions in the region have shown an important commitment to promoting responsible finance practices, by improving client protection, transparency and dispute resolution.
Foromic brought together participants from financial and microfinance institutions, associations of microentrepreneurs, government agencies, universities, NGOs, impact investors and international organizations. Next year's Foromic will take place in Mexico.
About the Multilateral Investment Fund
The Multilateral Investment Fund, a member of the IDB Group, supports private sector-led development benefitting the poor—their businesses, their farms, and their households. The MIF aims to give low-income populations tools to boost their incomes: access to markets and skills to compete in those markets, access to finance, and access to basic services, including green technologies.