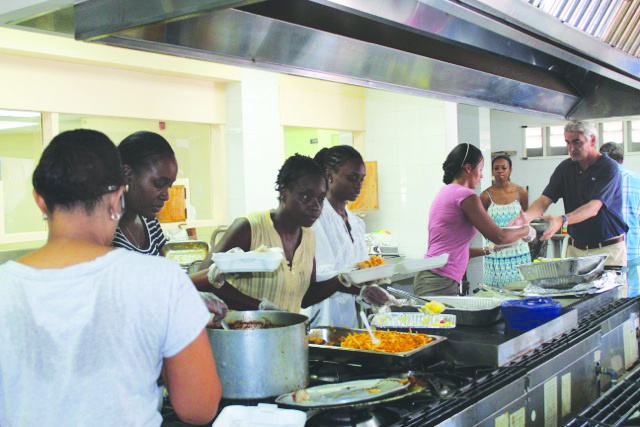 IDB Staff as they worked the production line to serve the less fortunate at the Salvation Army on Sunday.
Bridgetown/November 7, 2012/
The Inter-American Development Bank resently served up some goodwill to the poor at the Salvation Army Community Feeding Centre.
Country Representative, Joel Branski said that the goodwill visit in which IDB staff in Barbados prepared and served more than a hundred lunches was part of a community outreach program. "We are here in Barbados and we are cognizant that while the IDB's mission is supporting the country's socioeconomic development, it is also very important to make a positive impact on our community. I am very happy with the good turn out by staff to do this service for the community" Branski said.
Senior members of the Salvation Army expressed their gratitude to the IDB for taking up the challenge to provide the meals for the clients of the Centre. Major Rosemary Brown indicated that the Salvation Army was indebted to a number of organisations for their generosity which helped them to facilitate the Sunday feeding programme and indicated that there is still a Sunday free each month for other companies or organisations to adopt.
Janette Archer-Headley, Operations Senior Associate of the Bank, and member of the Diversity and Inclusion (D&I) group coordinated the outreach activity. She explained that the feeding of the poor at the Salvation Army was a continuation of the IDB's mandate through its D&I Action Plan to build its relationship with its community.
"The purpose of the D&I is to foster an inclusive work environment with a more diverse workforce, a workforce that reflects the diversity of the Bank's member countries and that enriches the quality of the IDB's work," Archer-Headley said. "The staff of the IDB Barbados Country Office was happy to be able to contribute to the society in this way, we are all very conscious that they are persons less fortune than ourselves and we were happy that we could lend a hand and spread some goodwill in this way," she said.
About the Inter-American Development Bank
Established in 1959, the Inter-American Development Bank is the largest source of development financing for Latin America and the Caribbean, with a strong commitment to achieving measurable results, increased integrity, transparency and accountability. The IDB has an evolving reform agenda that seeks to increase its development impact in the region.
Besides loans, the IDB also provides grants, technical assistance and does research. Its shareholders are 48 member countries, including 26 Latin American and Caribbean borrowing members, who have a majority ownership of the IDB.
For More Information, please contact:
Pamala Proverbs
Communications Advisor
Inter-american Development Bank (IDB) Barbados Country Office
(246) 438-7592
http://www.iadb.org/