Barbados Port Inc. welcomes Le Soléal for inaugural call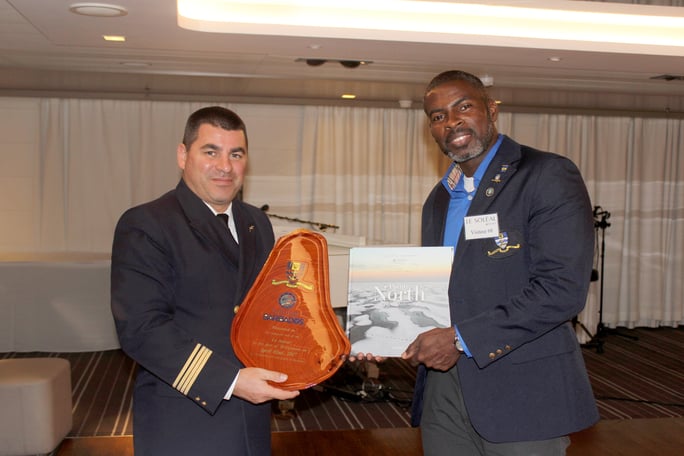 The Barbados Port Inc. (BPI) yesterday welcomed French cruise ship Le Soléal to the Bridgetown Port for the first time at an official inaugural ceremony. The seven-deck ship, renowned for its expedition-style cruises, arrived in Barbados from Venezuela and has now set sail for Martinique; its last stop on its 17-day
cruise.
The inaugural plaque was presented to Le Soléal Captain Debien Mickael by BPI Divisional Manager, Corporate Development and Strategy, Captain Karl Branch to ceremoniously greet the ship and its crew. "The Barbados Port Inc. officially welcomes Le Soléal to Barbados. Please accept this plaque in the spirit of friendship and we sincerely hope your inaugural call to our shores is the first of many more to come," said Branch.
Captain Mickael, a cruise captain for seven years, returned these sentiments. He, too, presented a gift of appreciation to the BPI on behalf of Le Soléal - a book of the cruise ship's most visited destinations. "It is a pleasure to be here in Barbados, it is a beautiful call. I hope my passengers enjoy Barbados' culture and history, and that we will have many more calls here in the future," he said.
On board, Le Soléal's 216 passengers have access to restaurants serving French and international cuisine, a theatre for informative lectures, fitness centre, day spa, hairdressers, swimming pool, kids club, as well as cocktail and pool deck bars. There is also a variety of live entertainment to enjoy such as a pianist, singers, dancers and cultural shows.
Le Soléal cruise ship is owned and operated by French cruise ship operator Compagnie du Ponant. Some of Ponant's most exciting destinations include navigating through the Arctic Ocean and North Pole, as part of its unique adventure-based cruises.
Photo Caption: Le Soléal Captain Debien Mickael (left) with the Barbados inaugural ceremonial plaque and BPI Divisional Manager, Corporate Development and Strategy, Captain Karl Branch with the Compagnie du Ponant 'Points North' destination book.