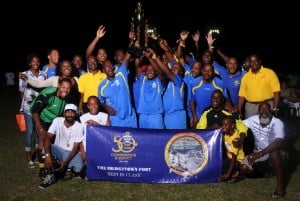 Barbados Port Inc. footballers outshone Barbados Light & Power, defeating that team 4 – 1 in their friendly inaugural Anniversary football match last Friday at the Bridge Field playing field.
BL& P were sporting a younger, trimmer team however the Port Inc. veterans completely dominated the pace of the game. In the first half although having the majority of the possession the BL& P men could not penetrate the Port defence which was led by former national player, Maurice Gaskin. The first half score was 1-0 to the Port.
The second half of the game however completely belonged to the Port. Renaldo Seale who opened the scoring in the first half completely stunned BL&P with a quick goal right at the start of the second half. Wearing the famous number 10 jersey he did the number justice completing a hat trick.
BL&P had a consolation goal in the dying minutes of the game but a beauty from Ricardo Grant off of Maurice Gaskin left side cross sealed the game for Port Inc.