Civil Society Key to Healthy Caribbean 2008 Conference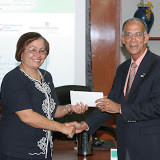 GIS Barbados/Wedneday October 8, 2008
The Healthy Caribbean 2008 Conference, which will be staged here from October 16-18 at the Accra Beach Hotel, will bring together a cross section of partners from CARICOM countries to plan civil society's response to the increasing burden of Chronic Non-communicable Diseases (CNCDs).
This was revealed today by Chairman of the National Chronic Non-communicable Disease Commission, Professor Trevor Hassell, as he addressed a press conference in relation to the upcoming symposium.
Noting that it would set in motion the development of an action plan for countries in the Caribbean to tackle CNCDs, Professor Hassell stated that the conference was not to be seen as the first initiative addressing the pandemic of CNCDs since the leadership in the Caribbean has been addressing this issue for many years." He reminded the gathering that Heads of Government of CARICOM countries had met last year in a summit, in Trinidad, and issued a declaration related to the CNCDs and as a result this Healthy Caribbean 2008 Conference has come into being."
Professor Hassell painted a startling picture of CNCDs across the region and the globe, highlighting the fact that 35 million people worldwide died from CNCDs last year alone. He added too that some 12%-16 % of adults in the region suffered from diabetes, while high blood pressure contributed to 45% of all heart and blood vessel diseases.
It was also noted that more than half of Barbados' female population was obessed as compared with some 30% of males. He pointed out that the situation is that CNCDs occur in epidemic proportions worldwide, in the Caribbean and Barbados, producing significant premature deaths and disabilities, and the further reality is that the risk factors of unhealthy diets, physical inactivity, and tobacco exposure lead to these chronic diseases."
Meanwhile, Acting Chief Medical Officer, Dr. Kenneth George, noted the role of civil society and citizens in the development of the action plan to address CNCDs for Barbados. He said: Far too often policy–makers are the ones who take the lead and this gives an opportunity for a wide range of partner involvement. This group will work and may bring a different perspective that can be harnessed for the public good."
Dr. George said the output of this conference would help to advance the work of the CNCD Commission by seeking to build effective partnerships with all sectors of the society.
He disclosed that the Ministry and the Commission were currently looking to develop a strategic plan for CNCDs in Barbados and added: This plan will take into consideration the salient points of the Strategic Plan for Health 2002-2012 and also the National Strategic Plan for Barbados.
The development of the plan for CNCDs will commence this month and we look forward to continuing linkages between the commission and all aspects of health care in Barbados."
Various entities involved in the conference, among them the Pan-American Health Organisation, the Caribbean Development Bank, the Heart and Stroke Foundation of Barbados, the Inter-American Heart Foundation, pharmaceutical companies and Corporate Barbados, were commended for their contribution to the meeting, that will be officially addressed and opened by Barbados' Prime Minister, David Thompson. (JG)