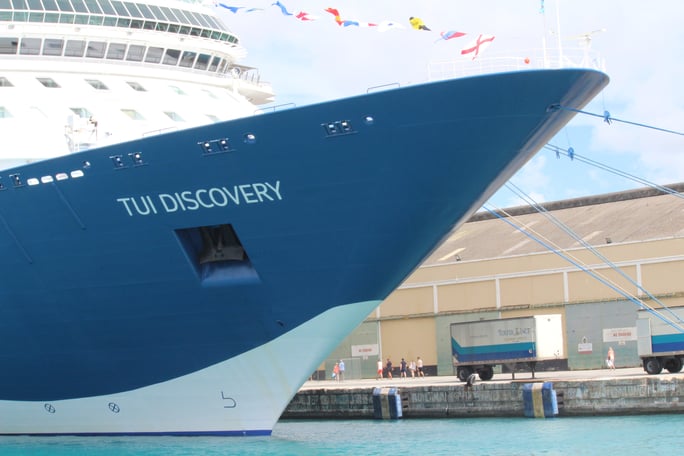 Barbados' cruise season is off to a bumper start with the arrival of its second inaugural ship just one week into the official start of the season. TUI Discovery arrived in Barbados on Sunday carrying just over 1800 passengers and 771 crew. TUI Discovery is one of the newest ships in the Thompson Cruise fleet. It is a new type of ship for the brand, and why the vessel bears the name TUI.
Captain, John Westgarth-Pratt received an official party led by the Hon. Richard Sealy, Minister of Tourism and Chairman of Barbados Port Inc. David Harding, on board for an official plaque exchange ceremony, an age old tradition for the first time visit of a vessel to a country. The Minister welcomed the captain and his crew to the island and said that he welcomed more Thompson vessels to homeport in Barbados as the country has in place all the infrastructure to accommodate any size ship plus the added bonus of beautiful highly sought after holiday destination for passengers.
Captain Westgarth-Pratt endorsed the Minister's sentiments in his welcome. He said although it was TUI Discovery's first visit to Barbados, Thompson Cruises has been coming to the island for years and the hospitality has always been excellent. "We love to come to Barbados, the quality of the handling in port is of a high standard and leagues ahead of the other islands in the Caribbean," the Captain said.
TUI Discovery will be in the Caribbean until April and will homeport from Barbados every Sunday. Its next stop is Bequia. The TUI Discovery features an outdoor cinema, a rock climbing wall, a mini-golf course, five-storey atrium and an indoor pool.