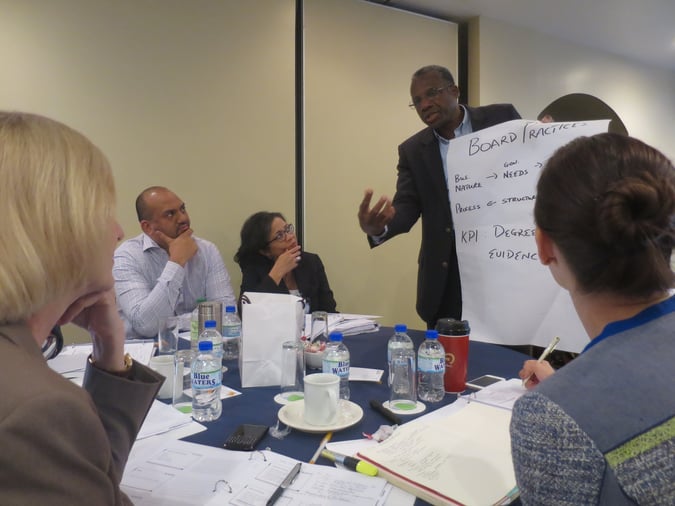 The Caribbean Corporate Governance Institute (CCGI) hosted their workshops for senior managers and directors on July 14 & 15 at the Hilton Barbados Hotel. The workshops are designed to help executives navigate the corporate governance landscape to effectively guide their organisations for the benefit of shareholders, the business and society. Persons who attended began the process toward attaining the Chartered Director Designation.
Until a year ago directors in the Caribbean had to travel to the UK, South Africa, or Canada to attain this designation. In July 2014, CCGI started the first regional cohort in its classic three-step programme that leads to this prestigious qualification.
CCGI is the regional independent non-profit membership organization for all professionals and stakeholders involved in Corporate Governance. CCGI was registered in 2012 in Trinidad & Tobago, and at presents its directors are resident in Barbados, BVI, Jamaica, St Lucia, and Trinidad & Tobago. CCGI currently has over 160 members and is the awarding body that is the custodian of Chartered Director qualification in the Caribbean.
Chairman of the CCGI Axel Kravatzky, said that there are a number of issues facing Caribbean businesses that make it incumbent on companies to have directors that are not only competent in business but are also cognizant of the legal and discretionary activities that companies should engage in to be good corporate citizens. "CCGI is not a watchdog organization but what we do is to help advance the debate on sustainable business practices," Kravatzky said.
According to Kravatzky, being a chartered director enhances the career prospects of executive, non-executive directors, corporate secretaries as well as other senior officers of companies. "Chartered directors have a dramatic and positive effect on the success of the organization and we are excited at the prospect of transforming the Caribbean business landscape with the help of our distinguished faculty, "said Kravatzky.
Alison Kibirige was the lead faculty of the Barbados workshop. Kibirige was the Secretary to the main Boards of Unilever and Barclays in London. She is a Fellow of ICSA, and was awarded the 2013 ICSA President's Medal for Meritorious Service as well as the inaugural ICSA Company Secretary of the Year award in 2005. Kibirige will ensure that local participants are well on their way to gaining the requisite knowledge (Step1, the Certificate in Corporate Governance), the requisite skills (the Diploma in Corporate Governance) and the requisite practical leadership experience in the Corporate Governance field (Step 3 the assessment of a portfolio of work).
CCGI programmes combine deep local knowledge with global benchmark standards. The Accreditation Council of Trinidad & Tobago has inspected the programme and an announcement regarding registration is expected shortly. The Institute of Chartered Secretaries (ICSA), and Institute of Chartered Auditors of Barbados (ICAB) have reviewed the programme and are awarding 6CPD credits per day for its members.
Further information on membership and and CCGI can be found online at www.caribbeangovernance.org.