Six additional sporting pioneers honoured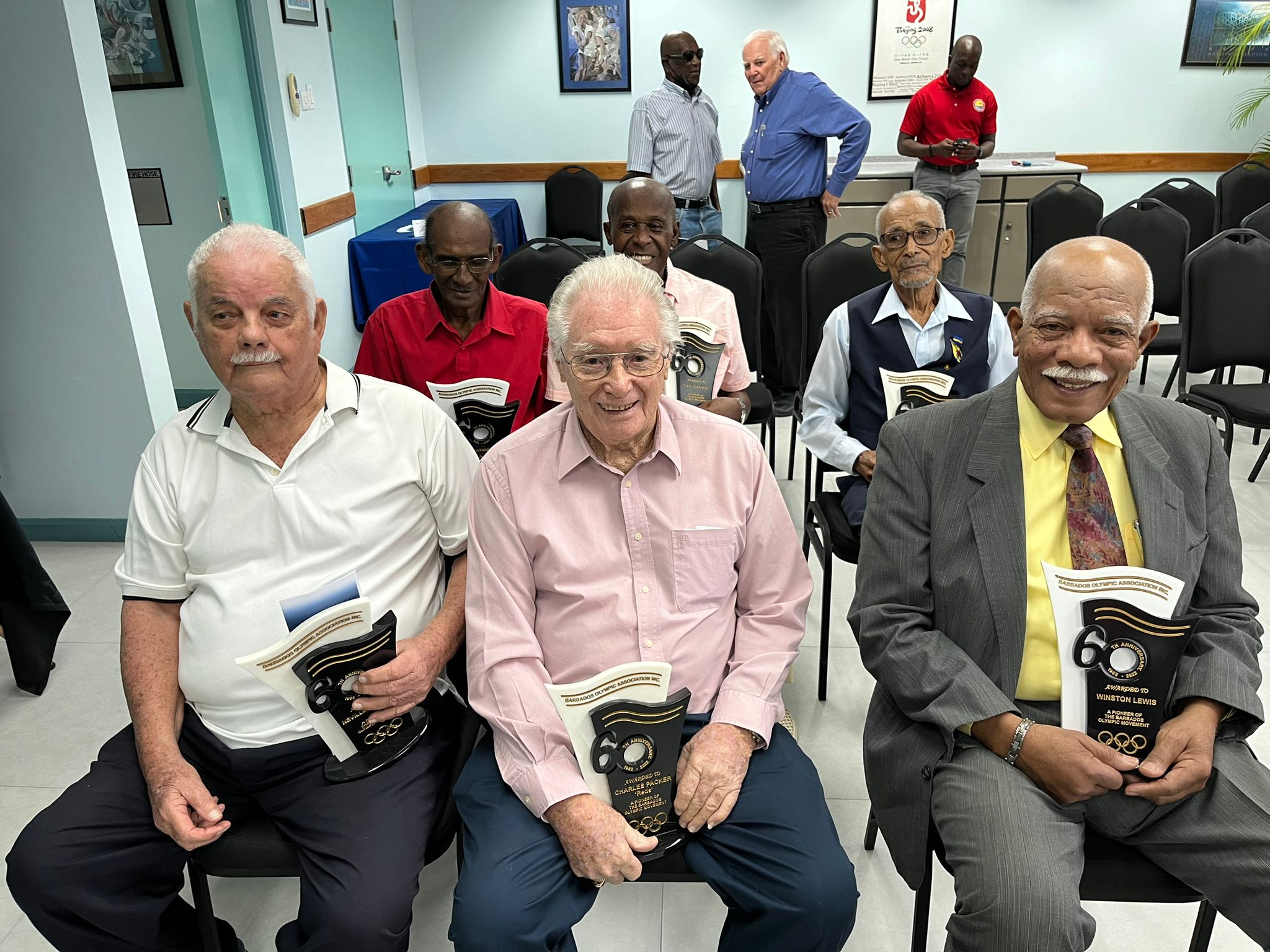 With the Barbados Olympic Association (BOA) Inc. working towards a solid showing in the 2023 Central American and Caribbean (CAC) Games, the organisation continued to honour its roots as six additional members of the 1962 team, which represented Barbados at the CAC Games in Kingston, Jamaica, were recognised for their efforts.
Cyclist Vernon Parris, basketballers Adrian Garnes, Carl Garner and Winston Lewis, and water polo players Neville Humphrey and Charles 'Reds' Packer received their awards during a special event held on Monday, March 27, 2023, at the Barbados Olympic Centre. These gentlemen were some of the remaining members of the 1962 CAC Games team to whom the BOA paid tribute during its 2022 Awards Ceremony held last December. The 1962 CAC Games Team has the distinction of being the first team to represent Barbados at an international sporting event.
Addressing those attending the small ceremony, BOA President Sandra Osborne SCM, KC highlighted the importance of paying homage to the sporting pioneers. Calling the team members trailblazers in the island's participation in international sports, President Osborne said that the BOA was grateful for the foundation they laid for our nation's athletes at the international level.
"This recognition was so important to us that we thought it necessary to host this event this evening to acknowledge the team members who could not be present at the awards ceremony in December. Our proud history of participating in the CAC Games continues some 60 years later as we prepare for the 2023 Games in El Salvador and the Dominican Republic. The importance of these Games for us is evidenced by the growth in our team. The team size has moved from approximately 40 in 1962 to well over 100 in 2023." Osborne said.
The 1962 CAC team comprised 41 athletes, including two women, and participated in athletics, basketball, boxing, cycling, weightlifting, swimming, tennis, shooting and water polo. The team captured six medals – one silver and five bronze.