Royal Caribbean International's Newest And Most Innovative Ship, Anthem of The Seas Makes Its Inaugural Visit to Barbados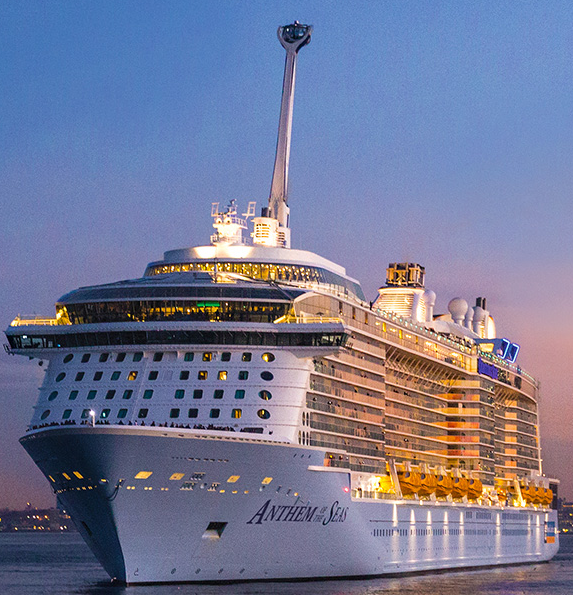 Bridgetown, Nov. 16, 2015. Royal Caribbean International's most innovative ship, Anthem of the Seas, made its inaugural call to the Bridgetown Port on Sunday. The Quantum-class ship, the newest in the impressive Royal Caribbean fleet is on a twelve-day cruise around the Caribbean. Barbados was her second stop since leaving her permanent home, Cape Liberty Cruise Port in New York on November 10.
Anthem of the Seas 10-year captain, Claus Andersen welcomed the official party, led by the Minister of Tourism and International Transport, Hon. Richard Sealy on board the vessel. He said that he previously worked on the Adventure of Seas so bringing this new ship to Barbados was like coming home. "This journey to Barbados for us was like coming home, so to speak. Anthem is a very special vessel, you have already seen her sister, the Quantum of the Seas, but all our vessels have their own signature features so you will find that Anthem is somewhat different," said Andersen.
In welcoming the captain and his charge to the island, Minister Sealy said that Barbados has a long-standing relationship with Royal Caribbean that has been deep and meaningful. "Royal Caribbean has always committed some of its grandest and most impressive vessels to Barbados. We understand that Anthem of the Seas is on its first deployment outside of the U.S., and we are happy and honored that Barbados was selected as a port-of-call on its inaugural Caribbean voyage."
On this trip, Anthem makes calls to San Juan, Barbados, Forte-de-France, St. Lucia, and St Marten. It is carrying 4231 guests and 1624 crew but has a maximum capacity of 6470 crew and passengers.
Anthem of the Seas aims to redefine the cruise experience by bringing the most advanced entertainment, adventure and technology to guests. With offerings like the North Star, a glass observation capsule that takes guests high above the ocean.
Royal Caribbean sails the most hi-tech ships in the world using technology both to entertain guests and to enable them to enhance their experience.