Barbados Welcomes Celebrity Silhouette to its Shores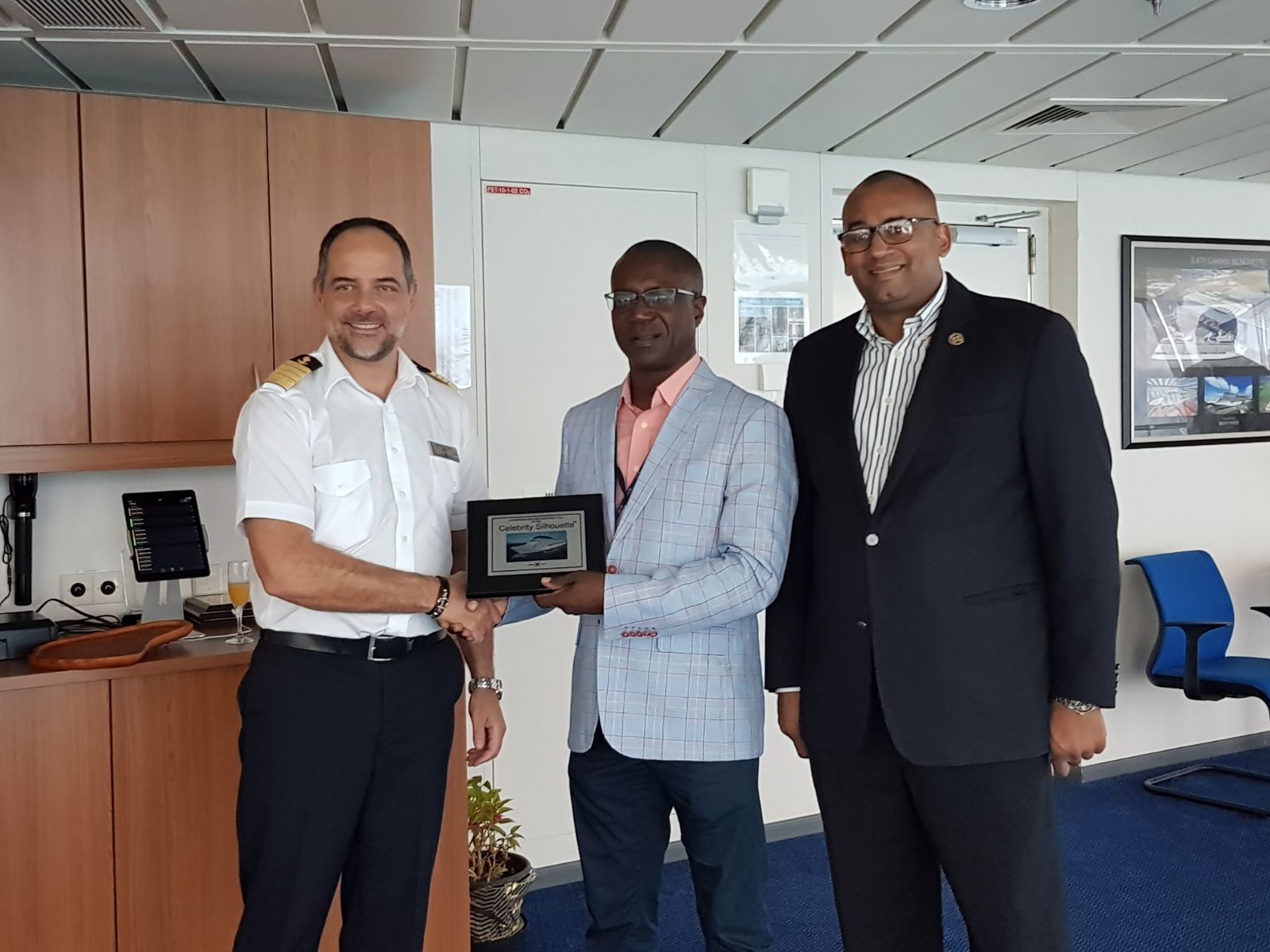 The luxury cruise ship, Celebrity Silhouette, from Celebrity Cruises is the sixth inaugural cruise ship to make a call on the Port of Bridgetown for the season.
Captain George Iatrou and the crew of Celebrity Silhouette, which was on a 12-day Caribbean cruise, were greeted by Richard Sealy, the Minister of Tourism and International Transport, during an official inaugural ceremony. During the ceremony, Minister Sealy had high praise for the relationship that has developed between Celebrity Cruises and Barbados Port Inc. (BPI). In fact, he noted that the affiliation is one that has been of tremendous benefit to Barbados as a premier cruise destination.
"Celebrity has been a great partner of Barbados for some time, and I have noticed the increase in commitment from Celebrity Cruises. This can be seen as we pass by the Bridgetown Port – there is a very distinctive funnel stack of Celebrity Cruise ships. We are thrilled that you've continued to come back to Barbados, giving your guests the opportunity to experience our unique brand of tourism."
Minister Sealy continued, "I also want to congratulate you and your organisation for the tremendous work you're doing. If you check out the feedback on Cruise Adviser, this particular cruise line has a very strong reputation, and I will implore your team to keep up the great work."
The ceremony was attended by the Chief Executive Officer of BPI, David Jean-Marie; Chairman of Barbados Tourism Marketing Inc., Alvin Jemmott; BPI's Divisional Manager of Corporate Development and Strategy, Captain Karl Branch; and other invited guests. In an address to the gathering, Captain George, as he is affectionately called, revealed that Barbados is always the number one choice for their passengers. Noting the strong relationship built between Celebrity Cruises and BPI, he expressed his desire to help nurture it in the future.
We are always happy to be in Barbados, and we continue to see a trend of passengers preferring that Barbados be included on the itinerary.
The 16-deck cruise ship arrived at the Port of Bridgetown with 2,900 guests and 1,200 crew members. Before arriving in Barbados, Celebrity Silhouette visited St. Lucia and Grenada and was expected to travel to Martinique, Saint Kitts, and Miami. The luxurious ship houses several state-of-the-art facilities, including theaters, a fitness center, spas, restaurants, pools, lounges, bars, a casino, and several boutiques.
Featured Image:
Captain George accepts plaque from Chief Executive Officer of the
Barbados Port Inc. (BPI) David Jean-Marie and Minister of Tourism Richard
Sealy.