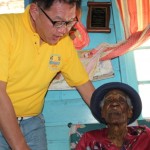 The PURE BEACH RESORT & SPA's spirit of the Season shone through when it partnered with the Sunrise Community Club to spread some Christmas cheer among the less fortunate within the Rices and Foul Bay community.
Over 14 persons throughout the neighbourhood were presented with Christmas hampers. Among the recipients was the oldest resident, 102 year old Elsie Hinkson. Hinkson was in good spirits when the party arrived. Explaining that she loved sewing and working in the ground but noting that she couldn't get around anymore since breaking her hip a year ago, she certainly charmed Sang Park, Head of Capital Acquisitions from PURE. He was overcome with emotion, of meeting a centenarian for the first time. He remarked "Barbados is truly rich and blessed with a wonderful culture and people. I am really happy that we are going to be able to work here."
PURE' s Chief of Operations, Mark Purai, said "Our philosophy is one of community involvement and we take our social responsibility very seriously. Wherever possible, we plan to work with the artisans, farmers, clubs etc. from the area to help grow St. Philip."
Verona Seale, President of Sunrise, remarked that the club was thrilled to have PURE on board and looked forward to many more years of partnership. "Our club has been giving out Christmas hampers for a couple years now and we are very happy that PURE came onboard especially in these tough economic times," she said.
The PURE BEACH RESORT & SPA multi-million dollar resort project was officially launched at Foul Bay Beach in October 2011.