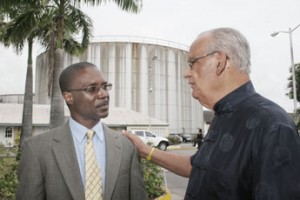 PERSONS receiving benefits under the Defined Benefits Pension Plan of the Barbados Port Inc. received some good news yesterday.
Speaking at a brunch in celebration of the Port's 50th Anniversary was Chief Executive Officer (Ag), David Jean-Marie, who revealed, "The current board of directors has approved a cost living adjustment to your pensions and this will be effective from January of this year."
He was at the time outlining some of the achievements and proactive measures being undertaken by the Port, which he described as the centrepiece of Barbados' social and economic development.
This includes the Port Master Plan, a complete separation of the cargo from cruise; the development of the central container examination facility in conjunction with Customs and completing berth number five to ensure that there is a dedicated cargo berth. The CEO said there will be a need to replace the current cargo handling equipment which could come to a whopping $50 million – ironic since the Port itself was built for $30 million, which at the time was considered to be a major investment.
Other accomplishments include the upgrading of Shed 1 to a passenger terminal back in 1985, which he said was a proactive decision to enable the Port to handle an increase in passenger numbers.
By 1988, there were over 300 000 visitors entering the Port and with the further upgrade in 1994, the 500 000th passenger was welcomed in 1995 and almost 700 000 passengers came through the Port in 2003. In 2004 there was a peak 813 000 due to the redeployment of ships following the damage sustained to other countries during to Hurricane Ivan.
He explained that there has also been an increase in the movement of cargo, from 175 000 tonnes when opened to 1 million tonnes being handled on a daily basis.
He said great emphasis continues to be placed on security, human resource development and training and revealed that the Barbados Port is working with the Caribbean Maritime Institute in an effort to certify all Port workers.
The CEO also took the opportunity to thank the stakeholders and partners of the organisation including the Barbados Workers' Union which he described as the most influential organisation operating within the Port. (JH)
Taken from the Barbados Advocate, May 16, 2011.