Pelican redevelopment to get underway soon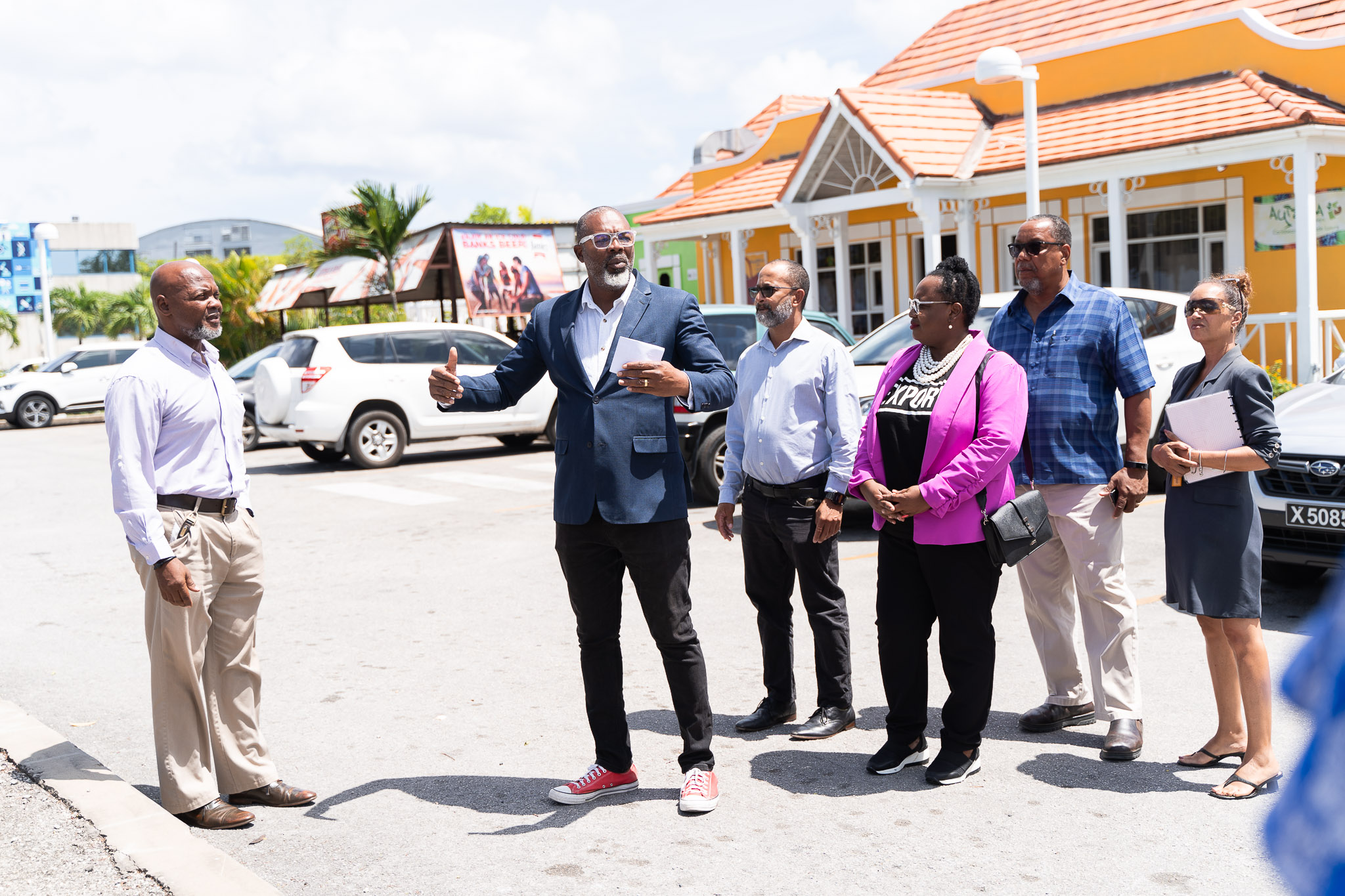 Starting June 1, 2023, Export Barbados (BIDC), working in collaboration with several stakeholders, will commence redevelopment work on the Pelican Industrial Estate, which will become the Pelican Experience when finished.
Chief Executive Officer of Export Barbados (BIDC), Mark Hill, speaking to the media on Tuesday during a tour of the 270,000 square-foot property, said that other government agencies and ministries will be involved in the project, expected to take ten months to complete.
CEO Hill added that the estate is being divided into three zones based on the nature of the businesses. Zones 1, 2, and 3 will be dubbed Pretty Pelican, Pink Pelican and Blue Pelican, respectively. He said some tenants must relocate to the zone that best suits their business model.
CEO Hill disclosed that Zone 1 will become a food and entertainment center, and the parking lots in that area will be redesigned as café spaces. He added that Zone 2 will allow artisans to practice their craft and include a shared commercial space to sell their products. Meanwhile, the CEO stated that Zone 3 will be a lifestyle hub, featuring elderly and children daycare facilities, which will be established in association with the relevant government agencies.
"Zone 1 will be an operating lease to one entity. We will still own the asset, but there will be one lease operator who will rent to other businesses. Zone 2 will be fully operated by Government, in collaboration with stakeholders like the National Cultural Foundation, and ties back into our design program and export program. We have three economies we are focused on developing – the bio-economy with the life sciences, the ocean economy and the design economy. And then Zone 3 is a collaboration with different government agencies such as the Child Care Board and the Ministry of People Empowerment and Elder Affairs," CEO Hill said.
CEO Hill stated that the tenants in Zone 2 would continue to benefit from the subsidized rental rates provided by Export Barbados (BIDC).
"The Barbados Government's rental rates are the lowest in this hemisphere, as low commercially as 75 percent below any other private company between the harbour and Bridgetown. So, Zone 2 allows us to continue to provide support for designers and artisans, subsidizing their development, while Zone 1 generates revenue for a break-even scenario, and Zone 3 is primarily social development," he stated.
The CEO indicated that with the repurposing of the parking lots in Zone 1 facing the Princess Alice Highway, there would be expanded parking spaces in Zones 2 and 3. Manager, Quality Infrastructure, Export Barbados (BIDC), Neville Rice, said the project is set to commence with the expansion of the car parks and then move on to the refurbishment of Building 6, which will house the children's daycare facility. This daycare will accommodate up to 96 children between the ages of three months and four years old.