Mein Schiff 4 cruises into Barbados for the first time
The Barbados Port Inc. (BPI) has officially greeted the Captain and crew of German cruise ship Mein Schiff 4 at the Bridgetown Port on Friday the 7th of April during an inaugural ceremony onboard the vessel. It was the second time in a week that the BPI had welcomed a cruise ship on its maiden voyage; French cruise ship Le Soléal also docked at the Port in the same week, bringing hundreds of cruise ship passengers to our shores.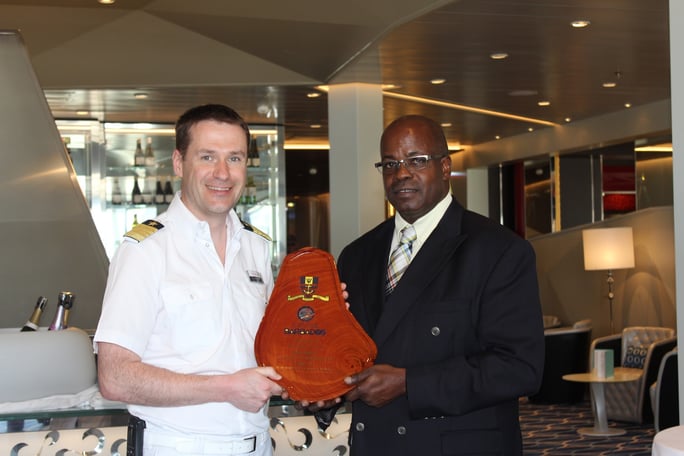 Mein Schiff 4 Captain Jens Troier (left) with the Barbados inaugural ceremonial plaque and BPI Divisional Manager, Operations, Kenneth Atherley.
Mein Schiff 4, a 16-deck cruise ship with the capacity for 2500 passengers, arrived in Barbados from Aruba and left the same day for the Portuguese island of Madeira as part of a 19-day cruise. Captain Troier, who was additionally celebrating his one year anniversary of command, presented a token of appreciation to the BPI on behalf of Mein Schiff 4, thanking the Port for their warm hospitality and high level of professionalism.
"We are very grateful that the Bridgetown Port welcomes us with such professionality. You know our other Mein Schiff vessels very well and we know you very well, so it is always a very smooth process to call here in Barbados. It is our pleasure to be here and we thank you for having us," he said.
The inaugural plaque was presented by BPI Divisional Manager Operations, Kenneth Atherley, who reiterated the Captain's sentiments. "On behalf of the BPI, we welcome you to the Port of Bridgetown and to Barbados. We value your business and we have a very good relationship with your brand so we look forward to continued visits from Mein Schiff. We thank you for choosing to call here and hope that you and your passengers enjoy your day at the Port, and on the island," said Atherley.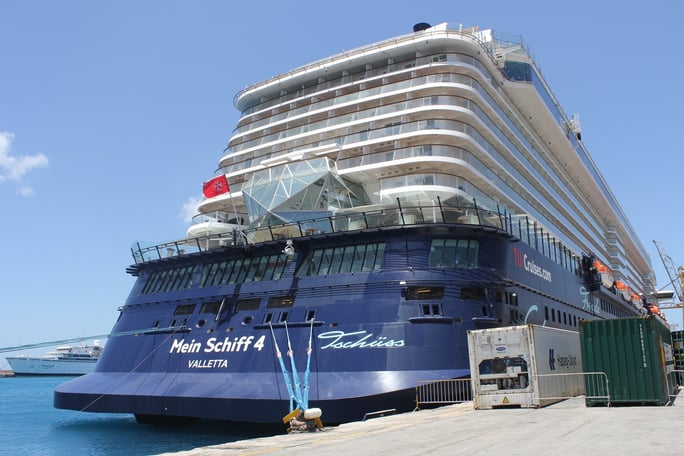 Mein Schiff 4 docked at the Bridgetown Port for its inaugural call.
Mein Schiff 4 cruise ship is owned and operated by German-based operator TUI Cruises. First setting sail in 2015, she closely resembles her sister ship Mein Schiff 3. Passengers on board can enjoy a variety of dining options and restaurants, a coffee lounge, bars, library, 3-level theatre, casino and lounge, 24 hour reception, basketball court, kids club, and a pool deck containing one of the longest pools on a cruise ship. There is also a nightly entertainment schedule including dancers, singers, circus shows, and cinema.