Marella Discovery 2 calls on Barbados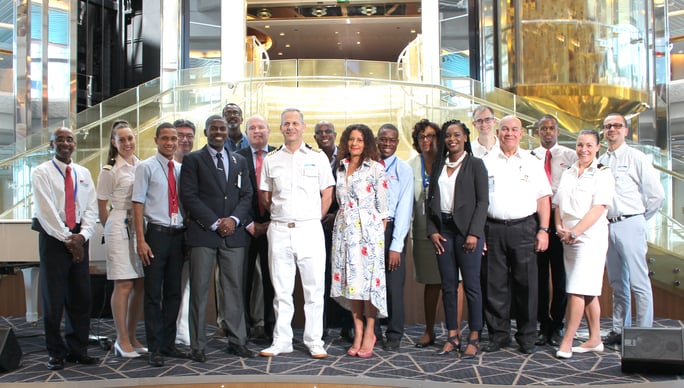 Barbados is on track to have a record number of cruise arrivals again this year, and just four weeks into the cruise season, the Bridgetown Port has seen an almost record number of inaugurals, including the Marella Discovery 2.
On Sunday, November 19, that vessel sailed into Barbados with 1750 passengers and 760 crew members onboard. Captain Jason Ikiadis noted how pleased he was to have brought another cruise ship to Barbados, and that the visit was extra special, as Marella Discovery and Marella Discovery II were docked in the Bridgetown Port together. Captain Ikiadis, who first came to Barbados in 1986 while working on a cruise ship, had the honour of bringing both Marella vessels to these shores for the first time.
"It was a fantastic experience driving Marella Discovery 2 into Barbados; about the same as it felt when I drove its sister ship Discovery in last year. I have always had a soft spot for Barbados, it is a paradise, and I must commend the Bridgetown Port for the efficiency with which they have catered to our needs. Even if it is a turnaround day, which can be busy, the process is seamless, quite smooth and effortless," he said.
Barbados Port Inc.'s Divisional Manager, Corporate Development, and Strategy, Captain Karl Branch told those attending the inaugural ceremony and plaque exchange that the Port was thrilled to have accommodated both vessels in adjoining berths.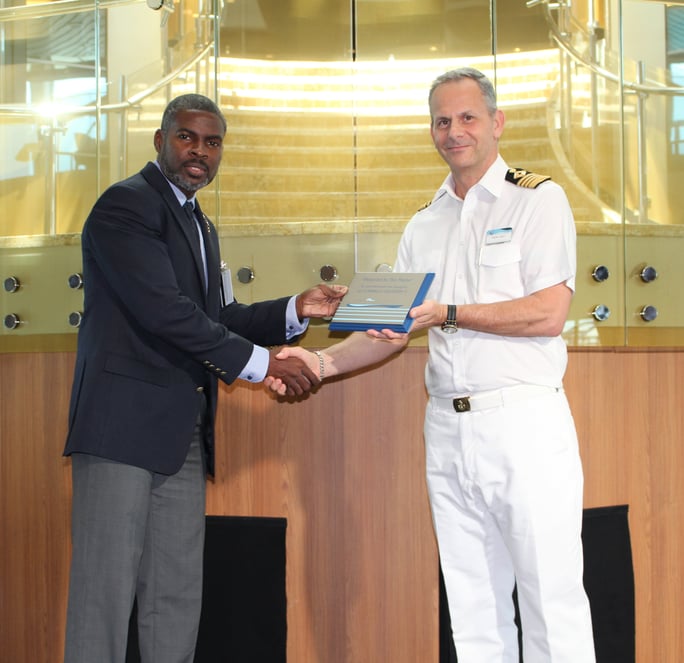 (right) Captain Jason Ikiadis presenting Captain Karl Branch, Divisional Manager, Corporate Development and Strategy, BPI with a plaque on behalf of Marella Discovery 2
"It is very rare to have two vessels from the same line, in the same port, at the same time. We were therefore delighted that our picturesque Bridgetown Port provided that backdrop, and that the Marella brand took the opportunity to have images taken to capture that moment. Our reputation as a premier port is certainly growing - evidenced by the increasing number of cruise vessels that we have the pleasure of welcoming every week," Captain Branch said.
This year will see a record number of over 800,000 cruise visitors to Barbados. This number is 100,000 more than the Cricket World Cup year of 2007.
The Discovery 2 is on an 18-day cruise from Europe to the Caribbean. Barbados was the first port of call, with Aruba, Curacao, Bonaire, Cartagena and Jamaica, all scheduled to be stops along the way.
A main feature of the 11-deck vessel is its navigation app. Guests have the power to book a table at an onboard restaurant, a spa treatment or even an onshore excursion, right from their phone, laptop or tablet. Even if they do not have one of those devices, there are several touchscreen monitors set up throughout the ship that can be used in the same way.
Marella Discovery 2, was formerly the Royal Caribbean's cruise ship Legend of the Seas. It offers several dining and entertainment options including a Sushi Bar, a mini-golf course, a rock climbing wall and a luxurious shopping experience in its Broad Street Shops.
Featured Photograph:
BPI's Divisional Manager, Corporate Development and Strategy, Captain Karl Branch and Captain of Marella Discovery 2, Jason Ikiadis along with specially invited guests, onboard the Marella Discovery 2 for the inaugural ceremony