Export Barbados (BIDC) and Compete Caribbean Launch Ocean Innovation Challenge to Provide Support to Blue Economy Companies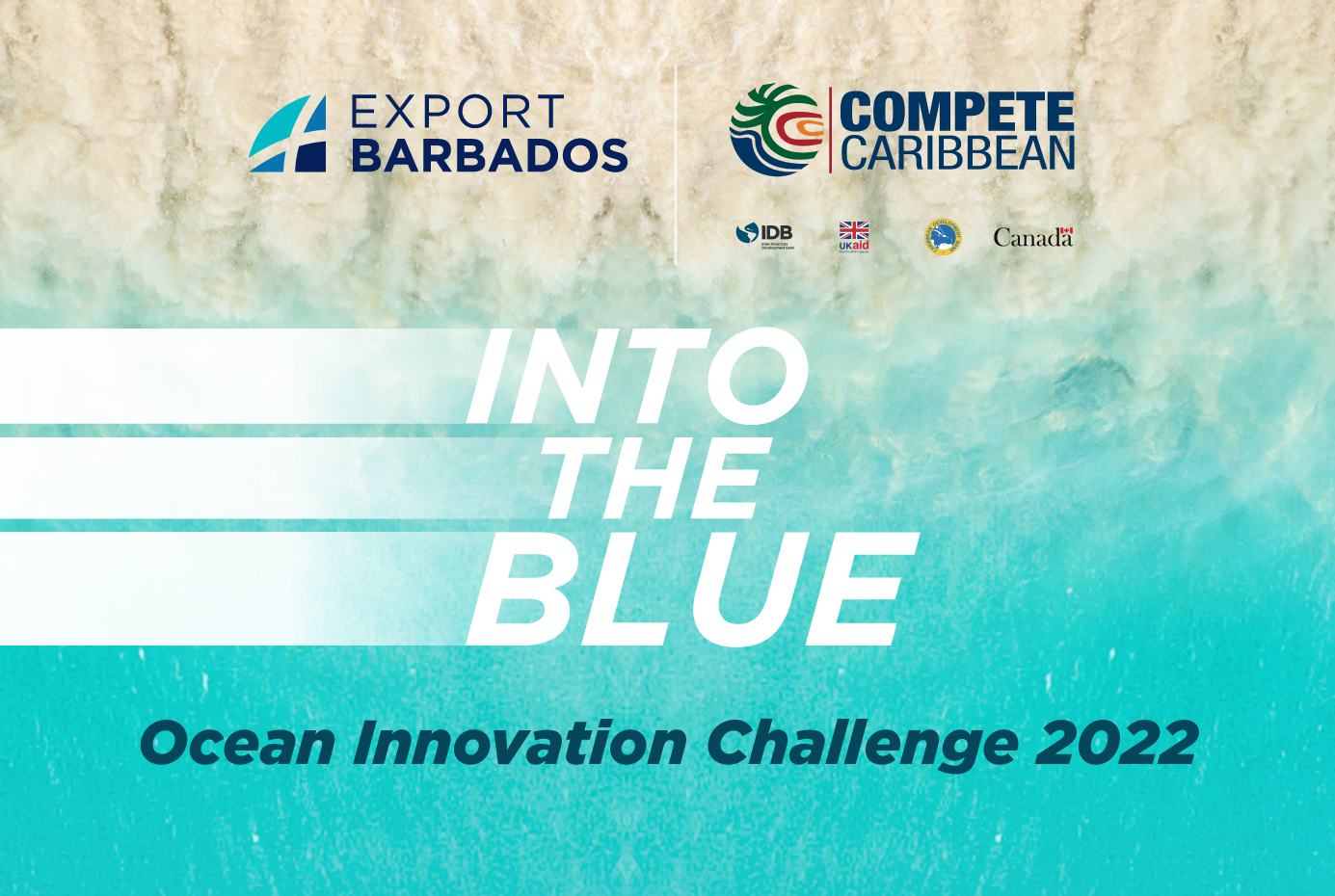 Barbadian innovators and private sector firms operating in the Blue Economy now have the opportunity to take their existing businesses to the next level. Export Barbados (BIDC) and the Compete Caribbean Partnership Facility have partnered to launch the Ocean Innovation Challenge 2022 – an initiative to provide technical and financial support to Barbadian companies that are operating in sectors within the Blue Economy.
Up to USD$100,000 in technical assistance grants are available to the selected firms to cover a maximum 75% of the total budget necessary to implement the project successfully. The firm will finance the remaining 25% of the project budget through cash and in-kind contributions. Technical assistance includes but is not limited to research and development (R&D) support, product development, marketing, and technical interventions required to bring commercially sound, sustainable, and innovative products and services that fulfill market needs.

The Ocean Innovation Challenge 2022 is specifically targeting firms that wish to export their products and/or services, as well as those using new technologies or solutions to foster the long-term sustainability of the Blue Economy in Barbados. It is looking for innovative Barbadian businesses to create new products and services, improve their processes and scale their commercial models. They should employ cutting-edge technologies and should generally contribute to the sustainable management of oceans and coastal resources as the basis for livelihoods, food security and economic development of Barbados.

Priority will be given to companies innovating and utilizing leading technology around the national challenges or priority areas of Barbados' Blue economy. These include fisheries, mariculture development, marine biotechnology, waste management, data capture, and energy generation.

Chief Executive Officer of Export Barbados (BIDC), Mark Hill, remarked, "What may be considered a perennial problem may actually be a profitable business waiting for the right innovation and entrepreneurial lenses to bring it to market. We are excited to support any such initiatives."

The Blue Economy has been widely acknowledged as a source of economic wealth and diversification, as this sector spans a range of industries that are tied to the sea, from tourism to shipping, fisheries, energy generation, marine biotechnology, and much more. Prior to the COVID-19 pandemic, The Organisation for Economic Co-operation and Development (OECD) had projected a doubling of the ocean economy from 2010 to 2030, to reach USD$3 trillion and employ 40 million people. For the Caribbean, there is an expectation that a new approach to the Blue Economy will facilitate a sustainable path towards economic growth, as there is an abundance of maritime resources within the region.

From sargassum to biofuels, from algae to cosmetics, from fish scale to fashion – what might appear in the first instance to be a nuisance or waste may well be Barbados' next thriving export product or service.

Interested persons can find the full details of the Call for Proposals at the website www.innovatebarbados.com, as well as on Compete Caribbean's website at www.competecaribbean.org.

About Export Barbados (BIDC)
Export Barbados (BIDC) is a world-class, export-driven, economic development agency. The Corporation contributes to the diversification and growth of the economy through new investment, increased exports and employment creation by fostering the development of competitive business enterprises.

About Compete Caribbean
The Compete Caribbean Partnership Facility (CCPF) is a private sector development programme that delivers innovative and practical solutions that stimulate economic growth, increase productivity and foster innovation and competitiveness. We work in 13 countries across the Caribbean region. CCPF is a partnership between the Inter-American Development Bank (IDB), the United Kingdom's Foreign and Commonwealth Development Office (FCDO), the Caribbean Development Bank (CDB) and the Government of Canada.