BOA touted as a role model for other NOCs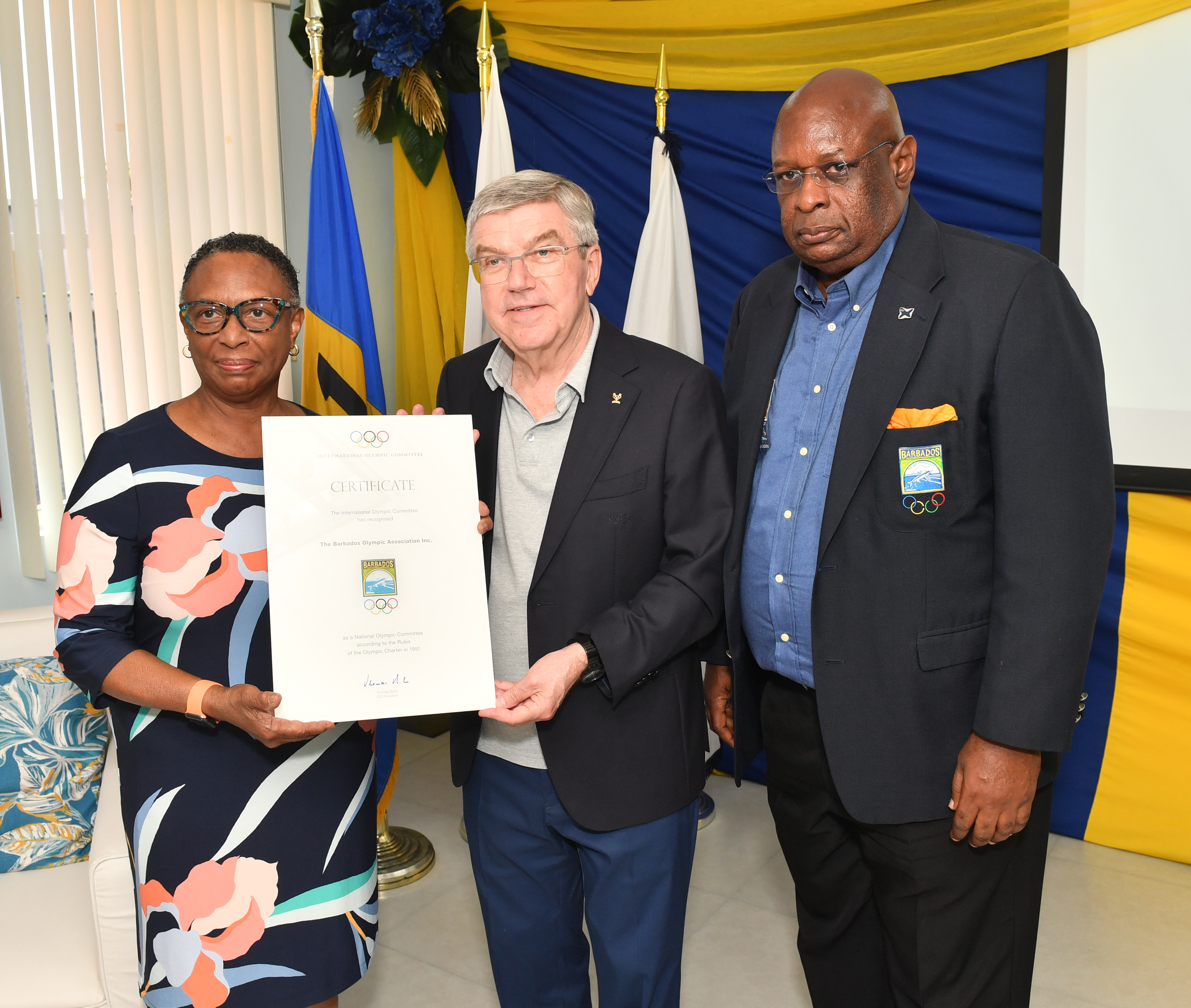 President of the International Olympic Committee (IOC), Thomas Bach, says Barbados' sporting results are showing constant improvement and insists that it is a sign of the talent of the athletes and a well-run and efficient National Olympic Committee (NOC).
The IOC President was speaking at a cocktail reception held at the Barbados Olympic Association (BOA) Inc.'s headquarters on March 9 in honour of his recent visit to the country. Barbados was among seven NOCs in the Caribbean and Central America, which he visited over two weeks. He and his delegation were on the island from March 8-10.
"The sporting results of yesterday are only the platform for tomorrow's success. With three semi-finalists in the Olympic Games in Tokyo, the stage is set for more success at the Olympic Games in Paris in 2024 and at the Pan American Games in Santiago, Chile," he remarked.
President Bach continued, "But all these results and performances do not just fall from heaven. I would like to thank everyone at the NOC for the important work you are doing every day to promote the role of sport and the Olympic Values. You have indeed taken leadership in this region and beyond. You can be extremely proud that you're a point of reference for other NOCs in the region".
The IOC head shared that the BOA's had done well in governance, transparency, gender equity, the realization of the United Nations Sustainable Development Goals, and the health of athletes, among other initiatives. He further maintained that because of these achievements, they could look with confidence to the future of the sport and the Olympic Movement in Barbados.
"You're doing a fantastic job and you have, in all this, an invaluable partnership with your government… But you're also champions at applying for and successfully implementing IOC programs. Again, a role model for other NOCs in the region," he stated.
Bach also lauded the leadership of the BOA's President, Sandra Osborne SCM, KC. He said the BOA team had done outstanding work under Osborne's guidance.
"And it's an inspiration not only for other NOCs in the region, but for many smaller NOCs around the world. You show how to create talent, you show how sport can contribute to a better society, and how sport can make the world a better place. And for all this I would really like to thank you. I would like to congratulate you, and I would like to encourage you to keep going strong in this way for the sake of sport, the Olympic Values and the athletes of Barbados".
President Bach also paid tribute to Immediate Past President Steve Stoute and IOC Honorary Member Sir Austin Sealy for their contribution to the BOA and the Olympic Movement in general.