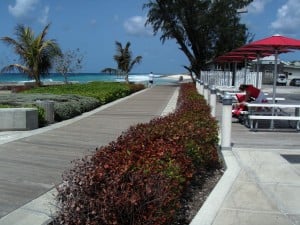 Micro, small and medium enterprise development will be in the spotlight when Barbados hosts the XV Inter-American Forum on Microenterprise (FOROMIC XV) at the Lloyd Erskine Sandiford Centre, October 1-3, 2012.
FOROMIC, organized annually by the Inter-American Development Bank's (IDB) Multilateral Investment Fund (MIF), is the premier event for the discussion of microenterprise and small business development, microfinance, and innovative entrepreneurial models and solutions in Latin America and the Caribbean. FOROMIC XV is the first held in an English-speaking Caribbean country, which creates exciting opportunities for visitors from Latin America to learn about successful Caribbean companies and projects, and vice versa.
FOROMIC XV, jointly hosted by the MIF and the Government of Barbados, will include representation from the private, public, and nonprofit sectors. Its theme, Unlocking Entrepreneurship: Towards Innovative Solutions, underscores the importance of uniting all these diverse stakeholders to exchange experiences and work together for continued economic development region-wide.
Avril Gollop, a consultant working locally to coordinate FOROMIC XV, promises that the conference will present unique networking opportunities for entrepreneurs in the region. "Participants will meet more people than they could ever have imagined, including CEOs of prominent companies. FOROMIC is a unique and valuable setting where entrepreneurs can share and gain ideas," she said. Gollop added that Barbados is going all out to ensure it stages a memorable and stimulating conference that will invigorate the local micro, small and medium sized enterprise (MSME) sector.
Topics to be addressed during FOROMIC XV include: Entrepreneurship Alternatives for Disadvantaged Youth; Responsible Finance; Generating Income Opportunities for Vulnerable Populations through Microfranchising; Innovative MSME Finance; Innovation in Green Finance: Solutions for Rural and Urban Markets; New Channels for Remittances; Savings for Low-Income Populations and New Business Models for Microinsurance.
One of the major features will be the Day of Barbados and the Caribbean. Entitled "From Meeting Turns to Microfinance Institutions," this event, held on the conference's opening day, will give participants a taste of Caribbean business and culture. It will address the role of microfinance in driving the local cultural industries sector, how financial institutions are leveraging technologies to deliver services to microentrepreneurs, and many other topics. The Day of Barbados and the Caribbean will also feature a youth forum to engage budding entrepreneurs. It culminates with a reception at a Rum Distillery, where participants will be able to tour the refinery and museum and will be treated to Caribbean cultural and culinary delights.
Over 1,000 persons from across Latin America and the Caribbean, as well as from other IDB member countries such as the United States, Canada and China, are expected to attend FOROMIC XV. The event presents an excellent opportunity for entrepreneurs at all stages to network and share best practices with business persons from across the hemisphere.
About the MIF - The MIF is the largest provider of technical assistance to the private sector in Latin America and the Caribbean. As a member of the IDB Group, the MIF's overall focus is providing entrepreneurs, low-income households, and micro, small and medium enterprises with access to financial services, basic services, and markets and capabilities.
For information on FOROMIC or to complete online registration, please visit: www.foromic.org