Barbados Port Inc. reaches out in the spirit of love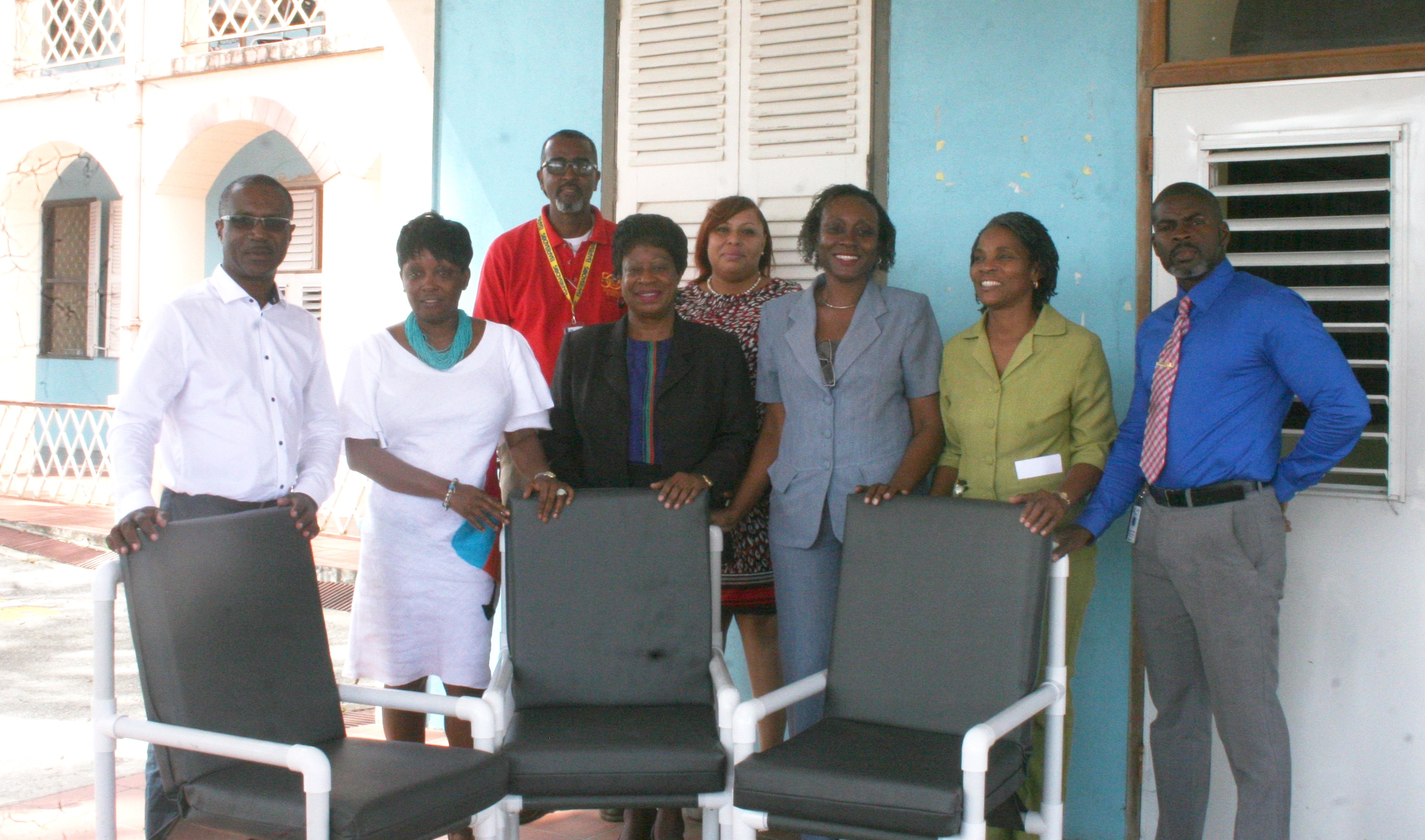 Barbados Port Inc. (BPI) has again reached out to the St. Michael District Hospital in an act of love on Valentine's Day by donating $10 000 BBD worth of specially-made chairs to assist the nation's elderly population.
As part of the ongoing relationship between BPI and the Geriatric Hospital, 24 purpose-built chairs are being donated to the Hospital's 'Day Room' and will allow bedridden patients the ability to sit up comfortably, offering them an improved quality of life. The padded leatherette style chairs are easier to clean than typical chairs and the thermoplastic base is hypoallergenic, allowing nursing caregivers to provide high quality healthcare to the Hospital's residents.
During the presentation to the Hospital by BPI CEO David Jean-Marie and other BPI representatives, Hospital Manager Joanell Oxley-Worrell said the chairs were a welcome addition to the Hospital's facilities. "This is a substantial donation to the Hospital. We value tremendously the contribution of these chairs for our elderly residents, especially in these times of economic constraints. We encourage other individuals and corporate Barbados to follow this example set by the Port to assist our nation's builders in their time of need. We appreciate this so much and thank the Port for their continued support," she said.
BPI CEO David Jean-Marie said he fully supports the annual community outreach donation to the Geriatric Hospital, which began approximately five years ago. "We are extremely proud to be able to donate these much-needed chairs today and the team at the Port will continue to support the Hospital in any way we can," he said.
The St. Michael District Hospital was built in 1884 and has the capacity for 286 patients. It is currently at approximately 90% occupancy and is one of four public geriatric institutions on the island which includes the St. Lucy District Hospital, Gordon Cummins District Hospital in St. Thomas, and St. Philip District Hospital. Previous yearly donations to the Hospital by the BPI have included toiletries and choir singing as part of the outreach initiative.
Caption 1: Official presentation of the donated chairs with (front left to right) BPI CEO David Jean-Marie, BPI Assistant Manager Employee Relations Meshell Rawlins, Hospital Manager Joanell Oxley-Worrell, Acting Principal Nursing Officer Moreen Smith, Acting Senior Sister Sonia Lovell, BPI Divisional Manager Corporate Development and Strategy Captain Karl Branch, (behind left to right) BPI Admin. Support Officer Randy Moore, BPI Outreach Program Officer Neilsa Griffith.