Barbados Port Inc. retains Novaport Cup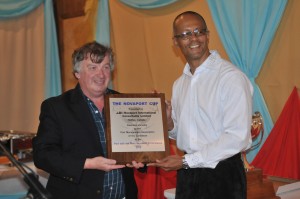 Barbados Port Inc. has done it again!
For the second consecutive year, Barbados has captured the Novaport Cup.
Glenn Roach, Barbados Port Inc's Manager, Quality Assurance, accepted the distinguished award during the Port Management Association of the Caribbean (PMAC) Annual General Meeting, hosted in Little Bay, Montserrat. He explained that the award is presented to the member port which has exhibited the most improved performance when compared to the previous year.
For Barbados Port Inc. which manages the Bridgetown Port, the award signifies that it has demonstrated effective management of its resources to maximize revenue while minimizing expenses. The Novaport Cup was originally presented by Novaport International Consultants of Halifax, Nova Scotia, Canada which has since been superseded by exp. of Brampton, Ontario, Canada.
Other Awards
Over the past 15 years, the Caribbean Shipping Association (CSA) has hailed the achievements of the Bridgetown Port by conferring on Barbados, its Port of the Year award five times and Best Multipurpose Port awards in 2004 and 2005.
The BPI has also received awards from Dream World Cruise Destinations, World Cruise Destinations, and Seatrade in the categories of Most Improved Port Facilities and Most Receptive Destination, and was runner-up in the fields of World Best Destination and Best Destination.