Barbados Olympic Association Inc. promoting peace and unity in sport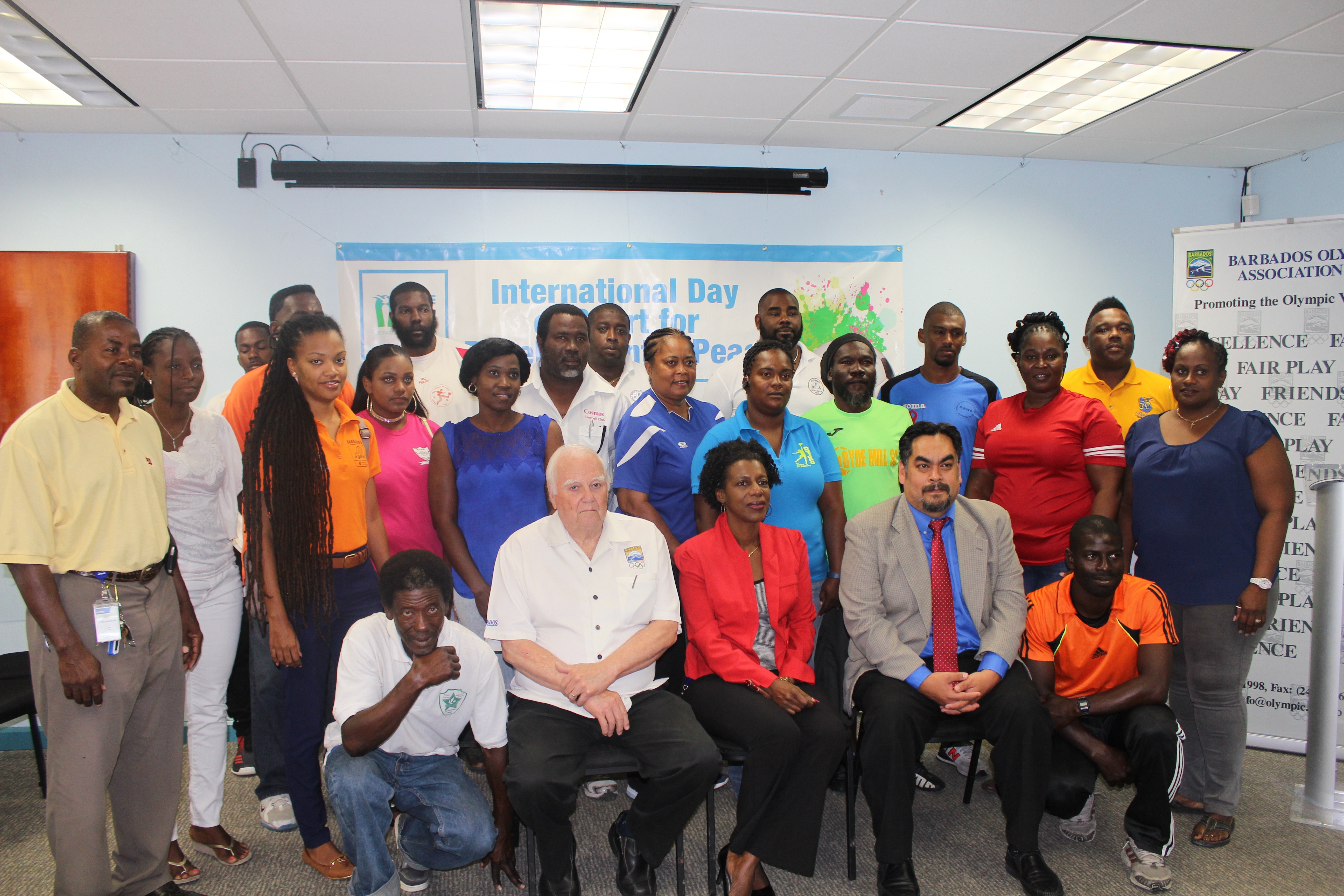 The Barbados Olympic Association Inc. (BOA) has officially announced its plans for next month's International Day of Sport for Development and Peace (IDSDP) event at a press conference last week at BOA Headquarters in Wildey.
The BOA and UNICEF have come together for another year to partner with the U.S. Embassy in Barbados as well as 14 local community teams to host a multi-sport youth rally event including basketball, dominoes, football, netball, and road tennis. The IDSDP event is to be held on Sunday 9th April at Gall Hill Playing Field in St. John from 9.30am onwards and is intended to highlight the role of sport to promote community development and cohesion.
Representatives from the BOA, UNICEF and CEO of Pinelands Creative Workshop, Rodney Grant all spoke about the significance of IDSDP, the event program, and the value of sports to foster peace and development within communities.
BOA President Steve Stoute said he was pleased to be able to host such an important event and to have such strong support from across Barbados. "This event is a fine example of just how many facets of life are touched by sports. Sports is now not only just about the athletic component, it is also seen as a major tool for strengthening community ties and creating a sense of fellowship amongst people from all walks of life," he said.
Grant who spoke on behalf of the local community groups, agrees. "Sport is the new industry for economic development and is a great vehicle to drive social change. Anything that brings communities together in solidarity must be commended and on behalf of the participating communities, we thank the BOA, UNICEF and the U.S. Embassy for their support and look forward to taking part in next month's event," he said.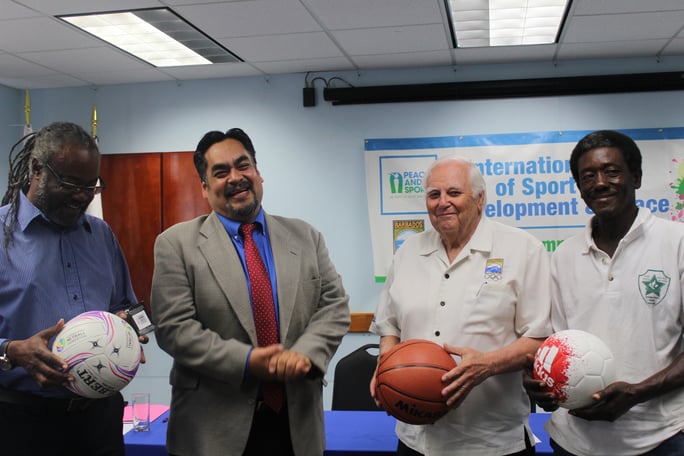 (left to right) CEO of Pinelands Creative Workshop Rodney Grant, Public Affairs Officer at the U.S. Embassy James Rodriguez, BOA President Steve Stoute, and Evans Maughan Youth Academy Football Club representative with some of the donated equipment from the U.S. Embassy in Barbados.
UNICEF Communication for Development Specialist Dr. Lisa McClean Trotman also emphasised the important role sport plays in contributing towards the UN's objectives for development and peace. "The adoption of this special day signifies the positive influence that sport can have on the advancement of human rights, and social and economic development. We are fully supportive of this event and encourage all Barbadians to come out and support their local teams on Sunday 9th April," she said.
Public Affairs Officer at the U.S. Embassy, James Rodriguez, has donated 15 basketballs, 15 netballs, 15 soccer balls and 36 training bibs to the event on behalf of the Embassy to assist with the development of sport and unity in Barbados' communities. "This is a great opportunity for us to partner with you, to get out into the communities to meet with people and explain the importance of sports and peace. On behalf of the U.S. Ambassador to Barbados and the U.S. Embassy community, I want to thank you for this opportunity," he said.
The IDSDP is an annual celebration of the power of sport to drive social change, community development, and foster peace and understanding. The United Nations (UN) General Assembly declared 6th April as the IDSDP in 2013, and it has been celebrated annually since 2014. The IOC is supportive of this initiative, recognising the role of sports organisations to support social change and human development.