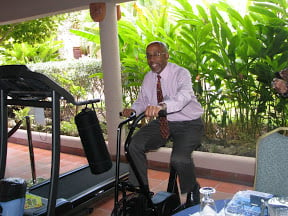 President of the Barbados Sports Medicine Association, Dr. Adrian Lorde in his presentation "Sports in National Life," at the Active Caribbean Workshop held in Barbados, called on all of the major stakeholders in the development of sport on the island to stop talking and start taking action.
He said that an action plan has been set to develop athletics, teams and train coaches in cricket, football, athletics, swimming, cycling and volleyball. They would also like to develop a sports academy for top athletes, raise the world rankings in cricket, football, basketball, netball and other team sports, support the sports management programme at the University of the West Indies (U.W.I.) and develop programmes and support systems to increase participation of Barbadian athletics at the international level.
In addition, Barbados has active sporting organizations such as the Barbados Olympic Association and the National Sports Council, a good climate and literacy levels, good air quality and a beautiful environment that would all help to promote these goals.
While he acknowledged that Barbados still has some shortcomings such as not enough play parks and side roads and expensive gyms, he stated that the island still offers a lot for both the development of sport as well as individuals getting exercise. These include good sporting facilities such as Kensington Oval, the National Stadium, the Garfield Sobers Gymnasium, the Aquatic Centre and some of the world#8217s best golf courses. There are also the many beaches that Barbadians can utilize.