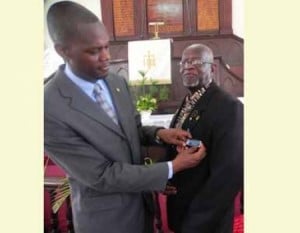 When we look at the number of young people with diabetes in Barbados, something is definitely wrong, says Southern Region chairman of the Diabetes Association of Barbados, Rudolph Smith.
Smith was speaking to the DAILY NATION after an installation service for the 2011 executive officers of his region at the Providence Methodist Church, Christ Church.
The chairman, drawing on statistics of "two years ago", said the increase with which "young people [were] coming down with diabetes" was "of great concern".
Smith lamented that though accurate and relevant information on the disease was easily accessible and available to the public, it seemed as though "we are not getting the message through to our young".
"And I don't understand why, because there is a lot of information out there in the print and electronic media, and now the Internet. So it is a case that people know what to do, but they are not doing it . . . . They are not doing what is necessary to make sure that they live a better life," he said.
Smith pointed out that the Ministry of Education had implemented a system to have healthy snacks sold at schools, but said he had observed the opposite.
"In my passing, I am seeing a lot of people selling things that cannot be classified as being healthy for children. I am not saying that those vendors should not have some type of business, but I think that they can substitute what they are selling with that which is much healthier."
Taken from the Daily Nation Newspaper April 18, 2011.
Read More