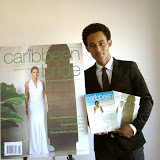 Caribbean Bride Magazine was recently featured at the Caribbean Week, Caribbean Travel Conference in Toronto, Canada, leading the way in promoting Barbados as an attractive wedding and honeymoon destination.
The Caribbean Tourism Organisation sponsored event is an important tool for Caribbean destinations to attract Canadian visitors. Publisher of the two year old internationally styled glossy magazine, Dave Cox, said that there was a very good response to the magazine and plans were underway to extend its distribution reach to this market. Caribbean Bride is already distributed in over eight islands in the Caribbean, Barnes and Noble and Borders bookstores across the US. Cox said that one of the critical points of the Conference was how islands, faced with declining tourist arrivals due to the current depressed world economic climate, were looking at niche marketing in areas such as weddings to fill some of the gaps.
"One of the highlights of the Conference for me was meeting Rebecca Grinnal of Engaging Concepts, one of the foremost experts on the business of weddings and honeymoons, a widely sought after industry consultant and trend expert. Rebecca has been hired by the Cayman Islands to establish that destination as a leading Caribbean locale for discriminating couples looking for an exotic choice like an island wedding or honeymoons of style and distinction. This is a real coup by the Cayman tourist board, to recognize the potential of the niche and to invest in the development of its wedding brand." Cox said that he has been energized since the Conference and was looking forward to working with local agencies to fully develop the local wedding market.
The next issue of the Caribbean Bride Magazine is due out in January.