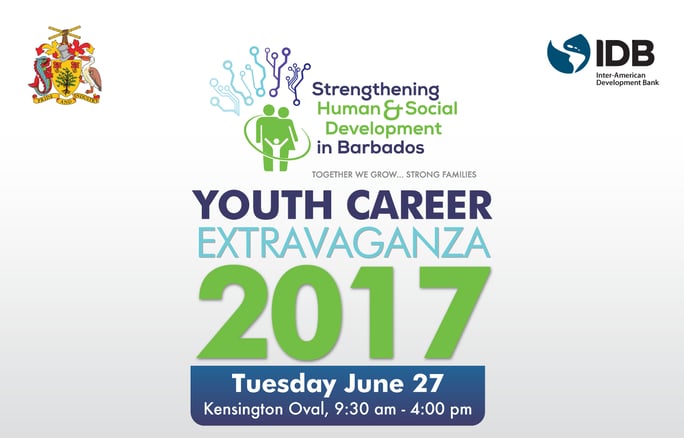 The Strengthening Human and Social Development Project in Barbados, being executed by the Ministry of Social Care, Constituency Empowerment and Community Development is hosting a Youth Career Extravaganza on Tuesday, June 27, 2017, targeted at youth between the ages of 16-30 and retrenched workers.
The IDB-funded project is geared at contributing to the reduction of extreme poverty in Barbados through the execution of a number of components, a key one being the reduction of unemployment through improved employment services and demand-driven technical training. The event which is being hosted at the Kensington Oval, 3Ws Stand will inform individuals on how to prepare themselves for the world of work successfully.
Project Coordinator, Maureen Pollard said that the team was keen on hosting the career counselling event at this time to coincide with the end of the school year. "The Youth Career Extravaganza will support the work of the National Employment Bureau (NEB) and will highlight a number of NEB services, especially for unemployed youth and retrenched workers. We are focusing a lot on youth in this our first event, so we decided that at this period when schools are releasing hundreds of students into the job market that it would be an opportune time for us to arm them with the information they need to enter the current job market successfully."
A number of agencies and organisations have come together to facilitate the event including the National Employment Bureau, the University of the West Indies, Barbados Community College, The Samuel Jackman Prescod Polytechnic, The Barbados Association of Guidance Counsellors and Corporate Barbados.
The Youth Career Extravaganza includes career and interviewing tips, information on continuing education choices, CV preparation, business etiquette and career counselling. There will also be opportunities for individuals to gain summer work experience.