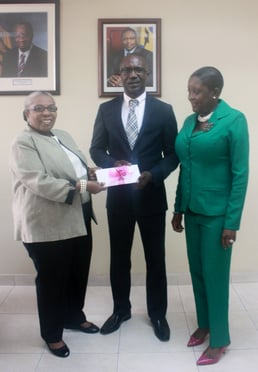 While many were out socialising during the recent cricket and Crop Over season, Barbados Port Inc. (BPI) Community Outreach Committee was out working hard to make a difference to the underprivileged.
The dedicated group, comprising BPI employees, looks for opportunities to raise funds for various local charities throughout the year. These two busy times in Barbados' social calendar proved to be the perfect opportunity for them to collect donations from patrons using the company's carpark for cricket and Crop Over.
"Using our carpark to raise money was a great success," says Chairperson of the Community Outreach Committee, Meshell Rawlins. "And, it was a real team effort, with BPI CEO, David Jean-Marie agreeing to match the amount the Committee raised, which helped us to double our contribution to the Child Care Board, the chosen beneficiary this time around. We're proud to be part of the BPI family that gives back to the community, especially to our youth," Rawlins added.
The money raised was presented as Cave Shepherd vouchers to Deputy Director of the Child Care Board, Denise Nurse. Nurse thanked the committee members for their generosity and said the vouchers will greatly assist children in the community. "The Child Care Board is very appreciative of the contribution and initiative of the Barbados Port Inc. and the private sector", she said.