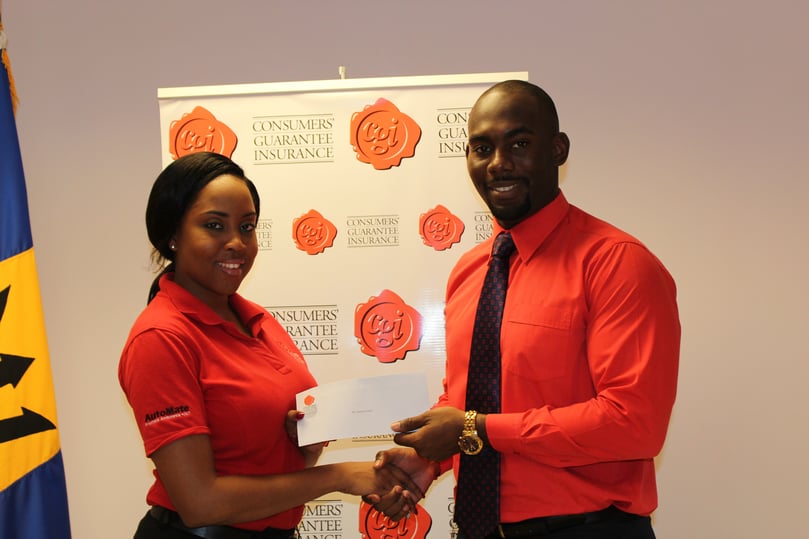 Bridgetown – CGI Consumer's Guarantee Insurance Co. Ltd. has announced another lucky winner of the 'Win Free Insurance Promotion' at the CGI Head Office in Warrens.

Accountant Damian Small of St. James is the sixth winner of the year-long competition. Small said that he was surprised that he had won the draw for a full year of free car insurance. "I saw an ad on Facebook and it just jumped out at me," he said. "I saw it as a great opportunity to get some free insurance so I just took a chance, and I won."

Small said he chose to insure his Suzuki Vitara SUV for a year with CGI as "my car is my biggest insurance expense right now, so I chose the car insurance", he explained.

CGI's Karla Yearwood from the Customer Service and Marketing Department presented Small with his prize and said CGI was proud to continue to offer Barbadians the chance to win a full year's worth of free insurance. "We love the fact that we can give something back to the community. Insurance is something we all need, and to be able to provide that in these economic times, courtesy of CGI, is a wonderful thing," she said.

Competition winners are drawn fortnightly and receive a grand prize of the choice of one year's free CGI home or car insurance. A bonus to the competition is that the insurance policy prize is valid for up to one year, if winners are not in a position to immediately redeem their prize.

The competition started on May 4, 2015. To enter, eligible persons can go online to the CGI website at www.insurecgi.com and fill out the entry form.