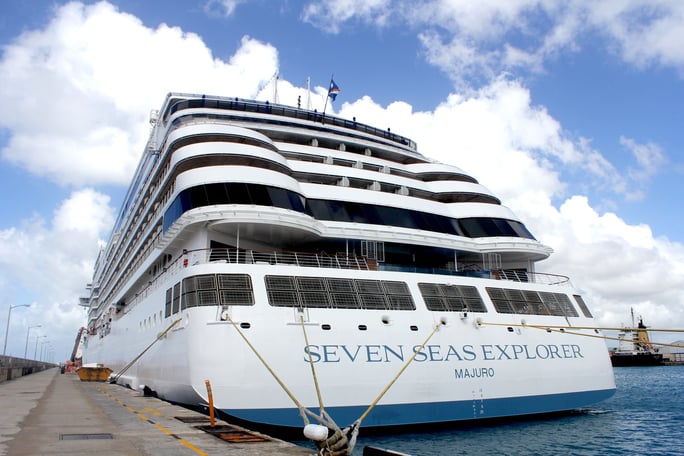 Bridgetown – The Barbados Port Inc. (BPI) yesterday hosted the official inaugural ceremony for the arrival of the Seven Seas Explorer at the Bridgetown Port. The luxury cruise ship and its crew were welcomed to Barbados by Hon. Richard Sealy, Minister for Tourism and International Transport, Chairman of the Barbados Tourism Marketing Inc., Mr Alvin Jemmott, BPI Divisional Manager Corporate Development and Strategy, Kenneth Atherley, Representatives of the vessel Mr Martin Ince and Kevyn Yearwood, along with and other invited guests aboard the brand new 375-suite luxury liner.
During the customary exchange of plaques, Minister Sealy told Captain Stan M. De Lacombe that the high quality experience offered by the Seven Seas fits perfectly with what Barbados is offering as a high quality tourist destination. "We place a great deal of emphasis on cruise tourism to Barbados, and this is reflected in our very busy cruise season already. We are very happy to welcome you and we are thrilled and honoured that on your first mission to the Caribbean, you have sought Barbados as a port of call. You can be assured that we want to be your partner as you continue to have more and more Caribbean cruises, and we thank you for choosing Barbados," he said.
Captain Lacombe returned these sentiments when presenting the Seven Seas plaque to Minister Sealy and Port officials. "We are very happy to be here, and as the inaugural call of this cruise ship to the Caribbean, we are glad that Barbados is part of one of the first Caribbean islands we have visited. This is one of the best ports in the Caribbean and we look forward to coming back again to Barbados and using your porting facilities," he said.
Kenneth Atherley, speaking on behalf of BPI, reiterated the importance of accommodating various brands as part of the broader cruise tourism strategy for Barbados. "It has been a pleasure to experience today just what the Seven Seas Explorer has to offer its guests as we welcome her to our Port for the very first time. The passenger experience on the vessel is well matched by the range of onshore experiences on offer in Barbados", he said.
Arriving Saturday morning from Grenada, the Seven Seas Explorer made its way to Martinique on Sunday evening and will finish its 14 day round-trip back in Miami on 18th December as part of its 'Miami Loop' cruise
The 735 ft ship has 10 guest decks with a capacity for 750 passengers, and is said to be the most luxurious ship ever built. It houses five fine-dining restaurants, high-end boutiques, bars and lounges, an onboard library, day spa, entertainment areas such as a casino, fitness centre, and culinary arts kitchen, and is even home to four original Picasso paintings.