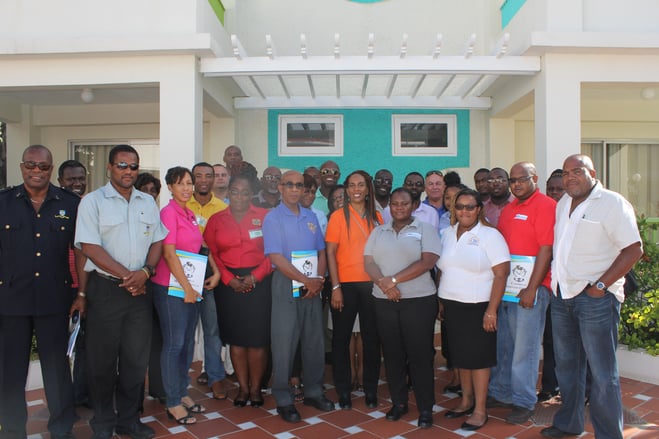 Bridgetown – Employees of Barbados Port Inc (BPI) and other workers from the local and regional shipping industry recently received five days of training on warehouse logistics, and the handling of hazardous goods and dangerous cargo from the Caribbean Maritime Institute (CMI). The workshop was held in partnership with the Port Management Association of the Caribbean (PMAC), The Shipping Association of Barbados (SAB) and Barbados Port Inc (BPI).

Coordinator and facilitator Leslyne Johnson Morgan and Trainer and Lecturer Radcliffe Spence (both from the CMI), led participants through the two components of the training– Warehousing, Logistics and Inventory Management, and Handling of Dangerous Cargo and Hazardous Goods. Topics were in keeping with the guidelines from OSHA the IMO standards for the occupational area, and addressed critical competencies that included warehouse organisation, preparing and identifying documentation and correct labelling, occupational health and safety regulations, and emergency response planning and management.

CMI's Morgan said the purpose of the session was to "ensure regional port workers and allied personnel are holistically trained to meet international requirements, as well as to encourage the integration of Caribbean countries in standard principles and practices governing safe and efficient cargo management". She outlined that the Transportation, Warehousing, Distribution and Logistics industry currently operates the same standards across all borders, and the quality of service, safety of employees, efficient customer service and the management of goods and cargo cannot be compromised. The recent event in China is an indication of the level of training, competencies and systems required to prevent, manage and contain possible incidences associated with the industry. These possibilities are classified as 'occupational hazards'.

Elsa Hewitt from the Barbados National Oil Company Ltd. (BNOCL) said she found the training very interesting and educational, especially from a port perspective. "I have learned a lot," she said. "It has given me a good idea of how to ship anything potentially hazardous and how to minimise the risks involved. It's great knowledge that I will definitely pass on to my co-workers."

The interactive course was available to staff at all levels, and encouraged them to make a connection to the whole 'process' involved in handling cargo and goods – from classification, to packaging, shipping and opening.

Participants included employees from Barbados Port Inc., Barbados National Oil Company Ltd., St. Vincent and the Grenadines Port Authority, British Virgin Islands Port Authority, Antigua and Barbuda Port Authority, Anguilla Air and Sea Port Authority, Massy Shipping Services Ltd., Barbados Investment Company, Shipping Association of Barbados and Goddards Shipping and Tours Ltd.

The training session was held from Monday 31st August to Friday 4th September, 2015 at the Blue Horizon Hotel in Rockley, Barbados. Certification awarded to successful participants meets international standards (IMO and OSHA) and is supported by an ISO 9001 – 2008 Lloyd's register quality assurance framework.