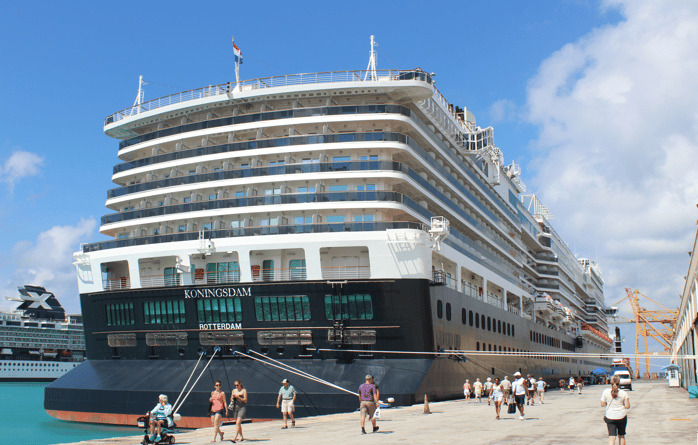 On the
Monday
morning as Barbadians joined hands around Barbados to demonstrate unity and solidarity for Barbados' 50th Anniversary of Independence, Minister of Tourism, Hon. Richard Sealy was extending his hand to welcome the Holland America Cruise Line's newest ship to Barbados for the first time, MS Koningsdam.
Koningsdam is Holland America's first Pinnacle-class ship, built just this year. In welcoming the Barbados party on board which also included officials from Barbados Port Inc. led by CEO David Jean-Marie, Bridgetown Cruise Terminals Inc. CEO, Geoffrey Roach and Chairman of Platinum Port Agency Inc. Martin Ince., Captain Darrin Bowland said that he was pleased to be back in Barbados.
"I have been here many times, so it's great to be back on this lovely island. Of course, we are here to celebrate the first visit of the Koningsdam. We are quite excited with our new ship, we just christened her in May, so she is the first of our pinnacle class ships. We have already cut the steel for the second ship, a different step in the marketplace, and redefining our way here with this ship and with the product. We look forward to sharing all the wonderful ports here with the guests of the Koningsdam," said the 9-year Canadian Captain.
Minister Sealy, in officially welcoming the ship, told Captain Darrin Bowland that Holland America had a long history with Barbados and it is fantastic that the line could be here at this important time.
"We are happy to have you at this particularly significant period. In another two days we celebrate 50 years, our golden jubilee as a nation, so it is fortuitous that you are here literally at a historic point in our nation's life. The vessel is brand new, and we are pleased that we could be one of your early stops, but it is also significant that although it is a brand new vessel Holland America as a cruise line has had a long history with Barbados so we are happy that the number of calls from the line is increasing and we look forward to receiving your new vessels as well, the Minister said.
Captain Bowland presented the Minister with a special limited edition plate commissioned from the Dutch company Royal Goedewaagen to commemorate the new ship while the Minister presented him with a plaque made of Barbados mahogany. Konnigsdam is on a ten-day cruise with 2648 passengers and 1036 crew. They will make two more stops in Barbados for the season.
Last weekend, Star Breeze from the Windstar Cruises, headed by five-year Captain Venezuelan Dimas Manrique also made an inaugural visit. The smaller more intimate vessel with slogan "180 Degrees From Ordinary," was also on a 10-day cruise carrying 180 passengers and 150 crew.
###